Richland Technologies' VIPUR Modular Computing Unit Selected by Major Avionics Supplier
Press Release
-
updated: Aug 11, 2016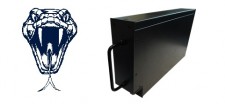 LAWRENCEVILLE, GEORGIA, August 11, 2016 (Newswire.com) - ​Richland Technologies (RTL), a worldwide leader in embedded computing solutions for safety-critical systems, today announced that it has been selected by a major commercial avionics supplier to provide the modular computing unit for an Enhanced Vision System (EVS) the supplier is currently developing.
RTL has been selected to provide the company with its Versatile Integrated Processing Unit (VIPUR), a high-performance multi-core processing unit, certifiable up to DO-178C and DO-254 Level A, and with the capability to produce state of the art graphics. 
VIPUR has been optimized to provide maximum reliability while making significant savings in Size, Weight, Power and Cost (SWAP-C). Equipped with flexible I/O formats and sophisticated graphics processing, VIPUR has become highly sought after by aerospace and defense manufacturers worldwide.
"The VIPUR product has been designed for certification from the ground up, couple this with RTL's extensive knowledge and experience of certifying commercial avionics systems and it makes it a perfect choice for this project," said Dave Simpson, Managing Director of Richland Technologies.
VIPUR has been developed as the first in a series of versatile, ruggedized and space-efficient DO-178C and DO-254 certifiable video processing and avionics computing platforms. Based on RTL's Open Standard Re-configurable & Certifiable Computer Architecture (ORCCA), VIPUR adds proprietary video and graphics processing functionality to a flexible, high performance, low power computing platform.
In order to provide customers with flexible systems that can host a variety of safety and mission critical applications, RTL developed VIPUR using a Modular Open Systems Architecture. As part of this approach, the VIPUR system has been equipped with a wide range of standard video interfaces alongside the common data interfaces for aircraft avionics making it ideal for a variety of domains including Enhanced Vision Systems and Primary Flight Displays.
To see more about our versatile embedded avionics computers and computing architectures, please visit our website: www.richlandtechnologies.com/products/avionics-computing/
About Richland Technologies
Richland Technologies LLC, headquartered in Lawrenceville, Georgia, is a leading provider of Safety Critical and High Integrity Software and Hardware Development and Certification for aerospace, defense, automotive, medical and industrial environments.
RTL leverages a creative portfolio of disruptive hardware and software technologies to make leading edge applications available to our clients at a fraction of the cost of what industry incumbents traditionally offer. Our comprehensive portfolio of engineering and management services focused on projects requiring DO-178B/C and DO-254 certification.
For more information, visit us at www.richlandtechnologies.com or follow us on LinkedIn www.linkedin.com/company/richland-technologies and Twitter @R_Technologies.
Source: Richland Technologies LLC
---
Categories: Aviation, Computers and Software, Computer Engineering, Computer Hardware, Computer Software
Tags: avionics computing, commercial avionics, DO-178B, DO-254, enhanced vision systems, graphics processing unit, modular open systems architecture, multicore processing unit, safety-critical systems, video processing unit
---