RGBSI Announces Zobility as New Company Brand for Staffing Division
Press Release
•
updated: Feb 15, 2023
Global Leader in Workforce Management Introduces New Company Brand to Embrace Talent Mobility as The Future of Work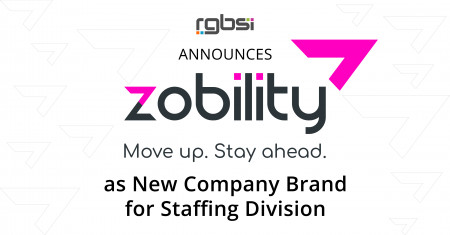 TROY, Mich., February 15, 2023 (Newswire.com) - RGBSI, a leading provider of global business solutions, has announced a spinoff of its staffing and workforce management division into the brand Zobility. This is a monumental moment for the company's structure in over 25 years of business. The purpose reflects RGBSI's expansive growth into full-range B2B solutions and a leader within the staffing industry.
Founded in 1997, RGBSI started as a key supplier of staffing and engineering solutions for the automotive industry. Over its tenure, it has diversified into service segments including electronics, ADAS product development, and SaaS products (Empower QLM, UpGlide). Having a dedicated global brand for workforce management will deliver clients and candidates with a more relatable experience.
"We are enthusiastic about introducing Zobility as the new face of our staffing and workforce management solutions. As a widely shared objective, investing in workforce skills includes mobilizing talent. Zobility encapsulates talent sourcing for the future of work. The idea of talent mobility opens the door to a world of skills and opportunities," said Sheenoo Sekhon, VP of Human Resources at RGBSI.
The name Zobility reflects the evolving workforce. It is inspired by the word "mobility" with confidence and reliability to harness the full promise of technical talent mobility. The name begins with the letter "Z" to signify reimagining the final frontier of global mobility.
The new logo depicts upward movement through the arrow incorporated in the "Z." The typeface uses bright pink to show vibrancy in the need to make an impact, and gunmetal gray to display superiority in finding the right talent. Synergistically, these colors represent technological advancement through employing the right talent. Innovation requires a powerful workforce through mobilization.
Zobility is supported by the tagline "Move up. Stay ahead." to connect with candidates that want to move up in their careers and companies that want to stay ahead of the tech revolution and support upward mobility with their talent lineup.
Zobility's staffing initiatives align with powering the future of work, which includes system electrification, machine learning and AI, sustainable engineering, and industrial automation. This is achieved by designing adaptable solutions for all: individuals looking for career advancement and organizations looking for necessary skillsets globally. Mobilizing employees to actively participate in company growth is a crucial component of operating a successful workforce management strategy.
Zobility will continue to operate under RGBSI. Over the next few months, RGBSI will transition its staffing division under the company brand Zobility.
About Zobility
Zobility, an RGBSI brand, focuses on providing innovative staffing and workforce management solutions within the mobility and high-technology sectors. Zobility dynamically develops and aligns the workforce with strategic business needs for a technologically advanced tomorrow.
Source: RGBSI