Reynolds Construction Selects Computer Guidance's Construction Cloud ERP
One All-encompassing ERP Solution For All Construction Financial and Project Management Needs in the Cloud
Press Release
-
updated: May 16, 2017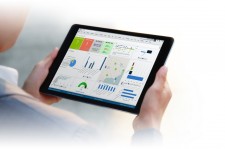 Scottsdale, AZ, May 16, 2017 (Newswire.com) - Computer Guidance Corporation, the leading developer of cloud-based construction management software, today announced that Reynolds Construction, LLC has selected Computer Guidance's eCMS construction cloud ERP software for their water infrastructure construction business.
Technology innovation, speed of delivery, and proven performance were all key factors in the decision of Reynolds Construction to select Computer Guidance to implement their new ERP system. The Reynolds business, which officially went into operation on May 1, 2017, was formerly a part of a large publicly traded company that administered ERP services at a corporate level. The timing of the transaction involved with the transfer of ownership required that a new ERP system be implemented in an approximate two-month time period, while yet providing a system that would be state-of-the-art and sustainable for the long term.   
"We looked at several ERP solutions in the market in support of our water infrastructure business needs and chose Computer Guidance's Cloud eCMS ERP in the end," said Les Archer, President, Reycon Partners, LLC. "We wanted a single solution and single instance approach that could be delivered within a very aggressive timeframe as well as the support and training required for us to be operational come Day 1. We found the eCMS browser-based and cloud platform with its comprehensive construction-specific applications to be more complete, reliable and flexible over its competition. This combined with Computer Guidance's focus on customer service made the decision very clear for us."
Computer Guidance's eCMS v.4.1 will deliver to Reynolds a single solution approach for office and remote field employees to collaborate and share real-time accurate information on demand.  With its advanced business intelligence and analytics capability, Reynolds will be able to stay competitive while planning for their future growth. The organization anticipates future growth initiatives to expand its business in the ever growing water infrastructure construction marketplace.
"An important criteria for us was to also have a system that was capable of adapting to our future needs," added Archer, "We became very comfortable knowing that the eCMS system has the ability to be easily customized and scaled as necessary to accommodate our future company expansion. To be ready for these opportunities, we needed a rock solid cloud ERP platform with robust construction financial and project management functionality."
"eCMS v.4.1 truly sets new standards for construction-specific ERP software in the cloud," said Mike Bihlmeier, President, Computer Guidance Corporation. "We look forward to partnering with Reynolds as they realize the benefits of our cutting-edge financial and project management, business intelligence & analytics, content management and mobile functionality we deliver with our flagship eCMS v.4.1 software."
About Reynolds Construction, LLC
Reynolds Construction, LLC, (formerly known as Layne Heavy Civil, Inc.) a privately held company, is one of the industry's leaders in the construction of water and waste water infrastructure.  Reynolds operates in 7 integrated offices nationwide, with a current staffing of approximately 400 employees. Specializing in water supply and piping systems; sewer mains and waste water conveyances; and treatment facilities, Reynolds offers these services under both traditional and alternative project delivery. With a legacy of nearly 75 years, Reynolds still holds true to the basic fundamental values by which it was founded, to deliver projects safely, on time, and within budget, providing efficient, well-functioning systems. For additional information, please go to www.reynoldscon.com.
About Computer Guidance Corporation
With over 20% of their client-base represented on top ENR lists, Computer Guidance Corporation has long delivered the leading construction-specific enterprise resource planning solution including financial and project management applications, #1 business intelligence, mobile technologies and enterprise content management.  Scalable, custom configurable and available both cloud hosted and on-premise, eCMS serves the needs of thousands throughout North America and has been named as the ERP solution of choice by the AGC. Computer Guidance Corporation is part of JDM Technology Group, a global construction-specific software conglomerate that serves more than 100,000 users in 40 countries and 6 continents.  For more information, visit www.computerguidance.com or call 888.361.4551.
Source: Computer Guidance Corporation
Share:
---
Categories: Enterprise Resource Planning, Civil Engineering, Construction, Engineering, Cloud computing, Enterprise Resource Planning (ERP)
Tags: cloud software, computerguidance, construction, construction ERP software, construction financial and project management, constructionERP, constructionmanagementsoftware, constructionprojectmanagement, constructionsoftware, ecms, hosted construction software
---