Revolutionary Robotic Mop and Polisher Everybot RS700 Launched on Kickstarter
Stop with the old way of cleaning your floors. Make your life simple and easy by using Everybot RS700, your ultimate cleaning robot.
Press Release
-
updated: Sep 25, 2017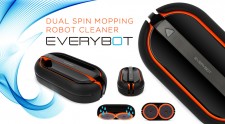 NEW YORK, September 25, 2017 (Newswire.com) - Everybot has launched a crowdfunding campaign on Kickstarter to support its revolutionizing dual spin mop robot that cleans automatically and wipes even the fines of dust effectively.
South Korea-based robotics company Everybot, has launched a crowdfunding campaign on Kickstarter in support of its revolutionary self-cleaning robot mop RS700. Designed with automation technology, it's the world's first-ever dual-spin mop robot that can clean up floors at their sparkling best without any human direction. Engineered with built-in multi-directional and multi-axis sensors, the robot is able to detect and avoid obstacles while cleaning to ensure a comprehensive mopping.
The Robot Mop has already earned huge press coverage from esteemed tech outlets like PCWORLD, Gadizmo etc. It has also been awarded by prestigious accolades, including 2016 Plus X Award and 2014 International CES Innovations Design and Engineering Awards.
The crowdfunding campaign set to raise $10,000 as its initial funding goal.
"We have got self-cleaning appliances for almost all the cleaning tasks except for mopping. When it comes to cleaning floors, we are still stuck to the traditional hand-held mop that has been in use since our grandmother's time. Not anymore — Everybot RS700 comes to the rescue. It's a groundbreaking self-cleaning robot mop which cleans floors automatically to relieve you of all the hassles of manual cleaning.  Engineered with cutting-edge 'dual-spin' mop mechanism, it works on any kind of dust, including the fine harmful dust as well as wax residue and all sorts of stains. Backed by RoboSpin Technology, the device can control direction and speed of the mopping pads to ensure optimized automatic cleaning. Don't worry, our robot mop guarantees the same precision of manual cleaning yet without any effort on your part.  It performs with 100% force of the weight you apply while mopping with your hands and its no-wheels design assure no scratch on the floor. Currently, we are looking for a mass production and thus this Kickstarter campaign. Your generous support would help us to bring this much-wanted project to life and share it with the world," stated Chung, the CEO of Everybot.
Everybot RS700 further assures a seamless wet mop cleanup, courtesy of its automatic water supply mechanism. The company spokesperson also mentioned about its two types of mop head construction. Designed with both diving yarn & microfiber patented mops, the robot mop is able to scrub stain and absorb dust for a comprehensive cleaning of the floor.
"We have designed the RS700 with multi-directional and multi-axis sensors that enable it to locate & bypass obstacles such as furniture and objects that are left behind. It can even identify & avoid hazards such as floor vents, staircases and drains thanks to its advanced vertical floor sensor."
Everybot RS700 comes with seven different cleaning modes including — auto cleaning, Y Curve super-scrupulous cleaning, corner cleaning, focus cleaning and also manual cleaning with remote control. If you want a speedy cleaning, you can switch to the Turbo mode for 1.2 times faster cleanup. You can even use hand-held mode to clean walls and windows.
"Our robot mop also comes with ESA technology that enables it to come out to a well-lit area after cleaning a dark surface (under your sofa) so that you can find it easily."
Backers will be rewarded with the Everybot RS700, remote control and micro-fiber mop heads at highly discounted prices.
To show your support for the campaign, visit https://www.kickstarter.com/projects/1092379306/everybot-rs700-ultimate-robot-mop-cleaner?ref=bag0tk
Media Contact:
Steve Lim
Tel: 201-932-0201
E-mail: myeverybot@gmail.com
Source: Everybot
Share:
---
Categories: High Technology, Cleaning, Home Appliances
Tags: automation, bravaa, irobot, mop, robot, roomba
---