Revolutionary Nanomarker(TM) Technology Introduces Integrated Forensic Authentication for Brand Owners Worldwide
Press Release
-
Apr 1, 2016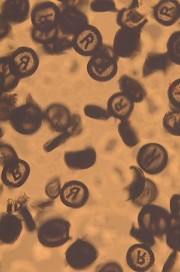 New York, NY, April 1, 2016 (Newswire.com) - ​​Nanomarker (TM) technology (subsidiary of Potsdam Specialty Paper Inc.) offers a customized forensic authentication solution for brand owners by integrating micro size logo, design, code, or other custom identifiers into the packaging or product itself. The proprietary Nanomarkers have never been successfully duplicated or counterfeited, and can be easily verified with existing smart phone technology. Further developments with Nanomarkers include design codes, algorithms, and 2D HD QR codes. According to Mike Huth, (CEO of Potsdam Specialty Paper Inc.) "Nanomarker technology provides easily verifiable covert forensic authentication with the potential to carry code data that can be used for track and trace, all fully integrated into existing packaging solutions"
Nanomarker taggants combined with data codes and geopositioning software technologies are an alternative to RFID and other more expensive track&trace technologies that cannot be easily integrated into existing product packaging. The Nanomarker technology solution is designed to be customizable to brand owner challenges including: counterfeit authentication, supply chain diversion, warranty/coupon fraud, cargo theft, and other protection challenges. "These are multi billion dollar challenges facing global brand owners and government entities which require a comprehensive solution approach," stated Ken Branch (Industry Supply Chain Security Expert).
Nanomarker technology is the culmination of 10+ years of R&D collaboration by multiple industry specific experts working with government and brand stakeholders. The individual challenges faced by these constituents require unique custom solutions, the Nanomarker technology solution approach comprehensively addresses these challenges. 
Share:
---
Categories: Consumer Goods, Security Services and Solutions, Packaging, Patents and Copyright, Paper Products, Pharmaceuticals and Biotech
Tags: Brand authentication, counterfeit prevention, covert security, document security authentication, forensic identification, microtaggants, supply chain diversion, track&trace geofencing, warranty fraud
---