Revolutionary Lifestyle Accommodation 'Social Apartment' Brings Its Upscale Shared House Concept to Osaka!
Tokyo's leading lifestyle accommodation company is set to revolutionize the Kansai market... Soon to expand nationwide!
Press Release
-
updated: Jul 26, 2018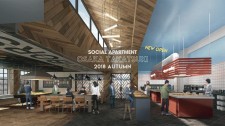 OSAKA, Japan, July 26, 2018 (Newswire.com) - Global Agents has just announced the Grand Opening of their first Social Apartment in Osaka, 'TERMINALS' scheduled for October 2018. The company has been rapidly expanding across Japan to respond to the growing demand for new lifestyle accommodations and will finally be bringing its flagship brand, Social Apartment, to Osaka's dynamic Takatsuki neighbourhood. 'TERMINALS' is Global Agents' second property in the Kansai region, having opened OTOWA Kobe Motomachi in 2015. Global Agents collaborated with the West Japan Railway Company to turn 'TERMINALS' into a new standard for shared living spaces in Japan. The property was designed around the theme of "intersection" and will serve as a metaphorical terminal between different stations in the residents' lives. The stylish lounge and wide variety of on-site amenities are all provided for residents to experience more fulfilling social interactions.
PLAY/WORK. ON/OFF. PRIVATE/SHARED. LOCAL/GLOBAL. TERMINALS plays with contradictions and oppositions to maintain the perfect environment for social interaction. The main lounge, designed with free-flowing lines that all lead to one central point, acts as a space where residents, who may have different kinds of lifestyles, can engage and "intersect" with one another. Every common space in 'TERMINALS' has been conceived to enrich residents' life with interactions and "intersections."
The lounge combines chic modern elements with designs that express Osaka's unique energy to provide a lively yet comfortable space. It is easy to imagine residents cooking at one of the many island kitchen stations, playing pool, or eating at one of the adjacent booths or tall countertop tables located towards the back of the spacious 150m² lounge while chatting with other residents who have just returned home from work.
In addition to the main lounge, residents will have a 40m² working lounge with free Wi-Fi and power where they can hunker down and concentrate on work. There will also be a Theater Room with an enormous 120" screen where they can escape the hustle and bustle of everyday life and just enjoy a movie.
'TERMINALS' has 55 private rooms each around 14m² in size. Residents will be able to decide how social they want to be at any given time because they can access their private room without passing through common areas.
The property is located a convenient 5-minute walk from the Takatsuki station on the JR Tokaido Line and a 15-minute walk from the Takatsuki-shi station on the Hankyu Kyoto Line. It takes only 15 minutes to get to Osaka and 13 minutes to Kyoto from JR Takatsuki station. The area around Takatsuki station is vibrant and features a shopping street full of restaurants that are open around the clock.
'TERMINALS' is the latest project by Japanese property developer Global Agents. CEO Takeshi Yamasaki notes, "Gathering spaces are critical to our design philosophy. We always strive to create spaces that facilitate dialogue and exchange and nurture microcosms of community within bustling urban environments." Global Agents' Social Apartment brand is currently the leading lifestyle accommodation in Tokyo, and they have plans to open several new Social Apartments and hotels all across Japan this year-and even more in 2019!
For more information, contact:
Zacharie Coskun
z-coskun@global-agents.co.jp
+81-3-6433-5792
Source: Global Agents
Share:
---
Categories: Hospitality, Accommodations and Lodging
Tags: agents, apartment, global, house, japan, kansai, kyoto, osaka, share, social, terminals, tokyo
---