Revolution Payments Introduces Automated Level 2 & Level 3 Processing Solution for Commercial Truck Dealers
This service can reduce the 'interchange' cost of accepting commercial, fleet, business, purchasing and government cards by up to 43%
Press Release
-
updated: Apr 13, 2020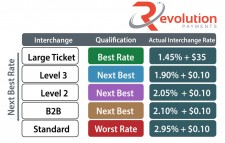 ASHBURN, Va., April 13, 2020 (Newswire.com) - Revolution Payments reveals a new service to help commercial truck dealers reduce the fixed "interchange" cost of accepting commercial, business, fleet, purchase, and government cards by up to 43%.
Visa and MasterCard use "interchange fees" to determine how much a business pays an issuing bank each time they accept a credit card order. Interchange fees can amount to more than 80% of the fees a business pays to accept credit cards.
For business-to-business transactions, interchange fees fall into one of three processing categories - ​Level 1, Level 2, and Level 3 - with 1 being the highest rates and 3 being the lowest.
Visa and MasterCard allow corporate, business, fleet, purchasing and government cards to qualify for lower interchange rates if level 2 or Level 3 processing data is passed with the transaction.
Unfortunately, many commercial truck dealers do not properly pass along enhanced data to qualify for level 2/3 interchange rates; others may be using a credit card terminal or device that does not support entry of this data.
Below is a snapshot of the interchange rates from Visa's own website to show how the Truck Dealer Savings Optimization Program can save a dealership as much as 80 basis points on certain transactions:
• Commercial Level III — 1.90% + $0.10
• Commercial Level II — 2.05% + $0.10
• Commercial Card Present — 2.50% + $0.10​
• Commercial Card Not Present — 2.70% + $0.10
This shows how a transaction will either clear at 1.9% or 2.7% — ​a difference of 80 basis points. This all happens before a processor adds its rate.
When comparing credit card processors, business will often only look at a processor's markup, not interchange rates. Interchange rates are fixed, however, since commercial cards will clear at one of three different interchange rates, and amount to 80% of the total processing fees, it only makes sense a business ensure their commercial transactions clear at the lowest possible interchange rates.
Revolution Payments' exclusive program automatically classifies Commercial, Fleet and Business credit cards to Level 2 and Level 3 interchange rates.
This optimizes each transaction to the lowest (interchange) fee possible, based on the card being used, the size of the transaction and the type of purchaser. Regardless of the acceptance method, dealers don't have to ask for or enter the data; no changes, no downloads and no human error. The service also helps prevent EIRF and Standard downgrades listed on a statement.
Large credit card transactions will automatically qualify for High Ticket interchange rates. These vary from .40%-1.45%
Commercial truck dealers interested in learning more about Revolution Payments should contact Sean Jones at sean@ revolution-payments.com.
Source: Revolution Payments
Share:
---
Categories: Trucking
Tags: commercial truck dealers, freightliner, interchange optimization, kenworth, level 3 processing, mack truck, revolution payments, westerstar
---