Revolution in Motor Longevity: MTE Corporation's Patented Filter Sets New Standard
Press Release
•
Jul 18, 2023
MTE Corporation Secures Patent for New Integrated Inverter Output Passive Filters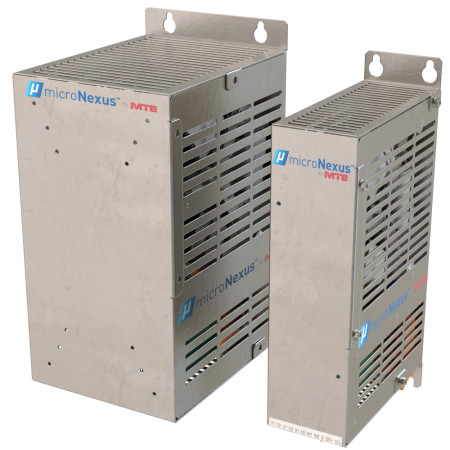 MENOMONEE FALLS, Wis., July 18, 2023 (Newswire.com) - MTE Corporation, an industry pioneer in high-quality power solutions, has announced it has secured Patent No. US 11,569,792 B2, awarded for their work in integrated inverter output passive filters, an integral part of their Nexus® product suite. The patent was officially sanctioned on Jan. 31, 2023, exemplifying the company's enduring focus on progressive filter solutions that boost motor longevity.
The newly patented innovation from MTE Corporation addresses two major challenges faced by owners of motors powered by variable speed drives or VSDs. This groundbreaking invention, an integrated inverter output passive filter, is able to effectively eliminate both damaging pulse width modulated (PWM) power signals that negatively affect motor windings, and voltage to ground, the damaging byproduct of a PWM signal that creates fluting damage of motor bearings, thus decreasing motor life.
MTE's patented filters deliver a robust response to power quality concerns prevalent in today's VSD-powered motors. With the filters seamlessly integrated into a drive output, MTE Corporation has significantly shrunk the footprint and complexity associated with conventional passive filter designs, while enhancing performance beyond any existing filter topologies.
MTE has also embarked on a series of accelerated life tests to substantiate the benefits of their recently launched microNexus™ filter. First, an unprotected motor was tested and failed after only one month of continuous operation. In contrast, a motor safeguarded with MTE's new microNexus filter, which relies upon the newly patented technology, has been operating consistently for five months under the same conditions, demonstrating at least a five-fold increase in motor lifespan. The company anticipates the safeguarded motor to continue operating for numerous additional months, further illustrating the filter's superior performance.
Todd Shudarek, MTE's Director of Engineering, commented on the motor life tests and the corresponding patent, stating, "Our patented Nexus filters are revolutionizing the power industry. They tackle critical issues, extending motor life significantly. This isn't just progress - it's a leap forward in efficiency and reliability across many sectors."
The patent awarded to MTE Corporation underscores its unwavering commitment to research, development, and the delivery of cutting-edge solutions to a broad spectrum of industries, including manufacturing, automation, and renewable energy. This technological milestone enables the company to significantly enhance power system efficiency, reliability, and operational performance.
For more details about MTE Corporation's revolutionary Nexus power quality solutions, please visit their web page at https://mtecorp.com/products/sinewave-filters/.
About MTE Corporation
MTE Corporation is a global supplier of power quality products designed to improve the reliability of power electronic systems. MTE designs, manufactures, and distributes passive harmonic filters, line/load reactors, link chokes, dV/dt and sinewave motor protection filters, TEAL® Power Conditioning and Distribution Units, and custom magnetic products for the most demanding industries. MTE Corporation is an operating company within the Diversified Industrial Segment of Steel Partners Holding L.P. For more information, please visit www.mtecorp.com.
About Steel Partners
Steel Partners Holdings L.P., through its subsidiaries, engages in industrial products, energy, defense, supply chain management, logistics, banking, food products and services, sports, training, education, entertainment, and lifestyle businesses worldwide. It operates through Diversified Industrial, Energy, Financial Services, and Corporate and Other segments. For more information about Steel Partners, please visit www.steelpartners.com.
Source: MTE Corporation