ReviveAmor Releases Stunning New Victorian Runway Collection
The elegant and edgy jewelry line hits the virtual runway featuring, hand-curated , head-turning Victorian brooches.
Press Release
-
updated: Jan 30, 2017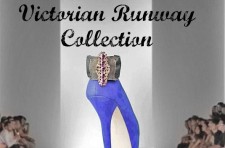 Norco, California, January 30, 2017 (Newswire.com) - ReviveAmor announced today the release of its new, high-end collection – The Victorian Runway Collection – an elegant and edgy line up of cuffs and necklaces featuring antique (over 100 years old) pins and brooches.
The Victorian Runway Collection is the creation of Premier, Up-style Jewelry Designer, Lacy Schoen.  The collection is named after the Victorian era from 1837 to 1901 during the reign of Queen Victoria who made accessorizing with amethyst, sash buckles, and mourning jewelry popular among the masses.
Schoen carefully hand-curated each Victorian piece for the collection, which features some of the rarest and most unique Victorian pieces that can be found on the vintage costume jewelry market. Brooches include Goldstone, Amethyst rhinestone, Bone and one stunning piece made from Gutta Percha, a black natural material that was used in the mourning jewelry of the era. A couple of the pieces feature Victorian Revival brooches.
Each of the 17-piece collection is named a Victorian surname that reflects its character. With names like Ella, Lena and the collection's namesake, Victoria – the line is a feast for the eyes. To own a piece of this jewelry is to own not only a one-of-a-kind piece of art, but a piece of history.
"It took several years to curate the essential Victorian pieces that would elevate the collection," said Designer, Lacy Schoen. Unlike Schoen's prior collections, The Victorian Runway Collection includes a the release of new leather cuff design that features soft, pliable layers of leather, cowhide and brass buckles closures.  "The soft leather and cowhide embrace the Victorian brooches. The cowhide cuffs connote a down to earth contemporary vibe, while the brooches exude sophisticated, classic beauty. The elements dance with each other in each piece," said Schoen. The collection also features some cuffs with dyed, spotted suede – a stunning new interpretation in ReviveAmor collections.
The Victorian Runway Collection can be found at the ReviveAmor shoppe on Etsy. Visit ReviveAmor at http://etsy.com/shop/ReviveAmor and click on the Victorian Runway Collection to see the entire, exhibit-worthy collection. Those lucky enough to have landed in ReviveAmor's "Bestie Email Group" enjoy exclusive discounts and giveaways. To join Schoen's Email Group, go to: http://eepurl.com/b7k7sX
Contact: Lacy Schoen, lacy@lacyschoen.com, (714) 788-7571, http://etsy.com/shop/ReviveAmor
About ReviveAmor: 
ReviveAmor specializes in reimagining and up-styling vintage and reclaimed pieces into stunning modern accessories. Designer, Lacy Schoen has earned a loyal following of customers who value high quality reclaimed materials, rare and beautiful historic jewelry and original, handcrafted accessories with a commitment to the environment. The company's signature Rustic Elegance Line features vintage brooches on leather cuffs. Because of the company's attention to detail, high-end packaging, and level of service to its customers, ReviveAmor has earned a reputation as "The Nordstrom" of service to its customers.  As well, the company has become "The Standard" for high end, cutting-edge reclaimed and up-style jewelry, and is leading the way in the repurposed jewelry market. Each piece is like its owner – one-of-a-kind, and stunning – with a story to tell. 
Source: ReviveAmor - Lacy Schoen
Share:
---
Categories: Fashion and Apparel, Environmentalism, Shopping
Tags: Amethyst, February birthstone, Goldstone, high fashion, Jewelry, jewelry collection, leather cuffs, mourning jewelry, shopping, Victorian era, Victorian jewelry, vintage jewelry
---