ReVamp Electronics Places #3 on Chicago Crain's Fast 50
Press Release
•
updated: Jun 26, 2017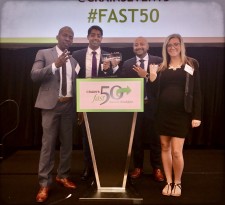 Chicago, Illinois, June 26, 2017 (Newswire.com) - The finalists for Crain's #Fast50 feature in 2017 are out. ReVamp Wholesale made it to #3!
In 2012, ReVamp Electronics took in almost 5,000 iPad repair orders a month, more than the company's 22 technicians could handle. So CEO Anant Handa, 30, had a choice: Scale up or move in a different direction. He chose the latter and took a "leap of faith," as he describes it, into the distribution industry. "At that point, we didn't have the proper funding to grow any bigger, so we were actually forced to pivot," he recalls.
But Handa knew there was one crucial thing all repair shops needed to survive: parts. During ReVamp's device repair days, the company experienced supply-chain issues firsthand. Receiving consistent quality parts, and quickly, was crucial. Leveraging the overseas connections he'd made completing thousands of repairs the previous years, Handa received about $50,000 worth of inventory on consignment from a Chinese factory to overhaul his business. "Everyone knew who we were from the repair industry, and it was kind of easy to pivot into selling them parts," he says.
ReVamp has grown more than ten-thousandfold in the past five years and is adding yet another tier to its offerings, selling pre-owned devices and partnering with Tessco Technologies, a publicly traded company, to distribute brand-name accessories to the repair channel. Anant predicts this aspect of his business will make up 25 percent of ReVamp's overall revenue by the end of 2018.
"Moving forward we know we need controlled growth because of exponential growth. It sounds great, but it can be a very risky thing," he says.
An industry as ever-changing as mobile electronics makes it challenging to accurately forecast potential business growth long term. Because of this, Handa maintains that the keys to extended success are employing the right people, innovating and diversifying revenue streams, and always being on the lookout for the unexpected. The unknown is where the fun and the real work begins.
The Fast 50 can be viewed here: http://www.chicagobusiness.com/section/fast-50
About Crain's Chicago Business and the Fast 50 Honors: For more than 30 years, business leaders have relied on Crain's as the go-to source for news and information about doing business in Chicago. More than a collection of products, Crain's Chicago Business is a rich media environment — in print, online, through in-person events, mobile and video. Since 2007, Crain's Fast 50 has honored companies in a variety of different sectors in the greater Chicagoland area that have achieved impressive revenue gains over a 5 year period. As such, the project annually offers a reliable snapshot of the region's growth sectors.
Media Contact:
Jerald Hendricks
Phone: 312.546.6680
Email: Jerald@ReVampWholesale.com

Source: ReVamp Electronics LLC
Related Media