Reusable Packaging Association Names Anheuser-Busch Inbev & DS Smith Plastics the 2018 Excellence in Reusable Packaging Award Winners
Press Release
•
updated: Oct 9, 2018
Winning submissions to be presented at Pack Expo 2018: RPA Learning Center, McCormick Place, Upper Lakeside Center #6866 Oct. 16 @ 3 pm CDT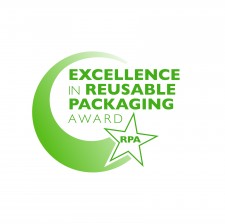 TAMPA, Fla., October 9, 2018 (Newswire.com) - ​​​The Reusable Packaging Association (RPA) is pleased to announce two winners in the 2018 Excellence in Reusable Packaging award program: Anheuser-Busch InBev and DS Smith Plastics.
Anheuser-Busch InBev (AB InBev) won for their design and implementation of a comprehensive maintenance, reusable pallet and logistics system that significantly reduced waste, increased reusable packaging lifespan and reduced CO2 impact by 30 percent.
The spirit of the Excellence in Reusable Packaging award is to bring to light the performance of reusable transport packaging systems in real-world use environments by showing the economic and environmental benefits that can be realized through reuse. This year, two applications received the highest marks during the judging process and we are pleased to announce that both Anheuser-Busch InBev and DS Smith Plastics have received the award for 2018.

Tim Debus, President & CEO, Reusable Packaging Association
DS Smith Plastics is being recognized for their collaboration with a supplier to the automotive industry to create a customized reusable transport packaging solution that reduced the cost and environmental impact of transporting components between manufacturing facilities and assembly sites while improving overall material handling and installation labor efficiency.
"Participation in this annual award program continues to grow," said Tim Debus, president and CEO of the RPA. "The innovation reflected in all the entries was outstanding and the field was very competitive. This year, two applications received the highest marks during the judging process and we are pleased to announce that both Anheuser-Busch InBev and DS Smith Plastics have received the award for 2018."
Comprehensive reusable packaging strategy at AB InBev cuts waste, cost and CO2 footprint. Investment in a preventative maintenance program for reusable kegs coupled with pallet redesign allowed AB InBev to consolidate heat-treatment and palletization of ready-to-use kegs at a single location (vs. two previously) and increase pallets per load by 33 percent. Brewery efficiency increased eight percent, transportation of rejected/returned kegs was eliminated, finished goods transportation costs were reduced by 54 percent and CO2 impact decreased by 30 percent. This comprehensive approach not only improved environmental and business performance, but it also extended the lifespan of the reusable packaging components used by Anheuser-Busch.
"As the world's largest brewer, Anheuser-Busch InBev is constantly working toward the highest level of quality and service to our customers, while doing so in the most efficient and cost-conscious manner possible," commented Andrae Kirkland, who manages returnable packing materials for Anheuser-Busch InBev's North American Zone. "This process change allowed us to more effectively manage a specific flow for our keg float and has impacted other areas of our supply chain as well. Innovative process implementations such as this will be key as we continue striving toward our 2025 Sustainability Goals. We are honored to be recognized by the Reusable Packaging Association for this initiative."
Custom-designed transport packaging by DS Smith Plastics dramatically reduces truck journeys and CO2 emissions while optimizing operations. DS Smith helped their automotive supplier customer realize operational efficiencies and reduce environmental impact by designing a reusable transport packaging solution capable of accommodating multiple products while ensuring product protection during transit, truck load optimization with both full and empty containers, easy and safe loading/unloading, compliance with local regulations, long useful life, end-of-life recyclability and achievement of ROI hurdles. The DS Smith Plastics solution, the AkyPak 4You reusable sleeve pack, delivered on all design requirements. Implementation eliminated over 300 truck journeys and nearly 313,000 kg of CO2 annually while improving labor ergonomics and efficiencies, material handling and waste. The AkyPak 4You has a useful life of seven years and is 100 percent recyclable when retired.
"We are pleased to receive this recognition from the Reusable Packaging Association on behalf of one of our customers and our returnable packaging specialist team at DS Smith Plastics," said John C. McCurdy, vice president of commercial development at DS Smith Plastics. "The returnable and sustainable solution that received this recognition is an example of how we work together with customers to bring a different perspective to their challenges and provide cost-effective solutions that protect the environment."
"The spirit of the Excellence in Reusable Packaging award is to bring to light the performance of reusable transport packaging systems in real-world use environments by showing the economic and environmental benefits that can be realized through reuse," said Debus. "Our judges cited the impressive impact demonstrated in multiple facets of both the AB InBev and DS Smith Plastics case studies, including labor ergonomics and assembly efficiencies, reduced transportation cost and environmental impact, reduced product damage and waste, and the long life and end-of-life recyclability of the transport solution as key factors in their selections. We congratulate Anheuser-Busch InBev and DS Smith Plastics on this well-deserved award. We also commend and thank all the companies that submitted entries this year for making reusable transport packaging a centerpiece of their sustainability programs."
Anheuser-Busch InBev and DS Smith Plastics will present their award-winning entries at the RPA Reusable Packaging Learning Center (Upper Lakeside Center #6866) at Pack Expo in McCormick Place, Chicago, Illinois, at 3 p.m. CDT on Tuesday, Oct. 16, 2018.
About the Excellence in Reusable Packaging Award: The RPA Excellence in Reusable Packaging award recognizes companies and organizations that have developed and implemented innovative and measurable reusable packaging solutions in a business-to-business supply chain. 2018 marks the seventh year for this annual award program. Submissions are reviewed by an independent panel of judges who are not members of the association.
RPA would like to thank all this year's judges:
Justin Lehrer, Sr. Program Manager, and Michelle Fay, Program Manager, StopWaste
Ben Miyares, President, Packaging Management Institute
Laszlo Horvath, CPL, Assistant Professor and Director, Center for Packaging and Unit Load Design in the Department of Sustainable Biomaterials at Virginia Tech University
Rick LeBlanc, Editor, PackagingRevolution.net
About the Reusable Packaging Association (RPA): RPA is a non-profit trade organization representing and promoting the common business interests of member suppliers and users of reusable packaging products and services. RPA promotes the use and value of reusable transport packaging systems, which offer product quality, economic and environmental benefits to supply chains. For more information, visit the RPA website at reusables.org.
About Anheuser-Busch: Our Dream is to bring people together for a better world. Beer, the original social network, has been bringing people together for thousands of years. We are committed to building great brands that stand the test of time and to brewing the best beers using the finest natural ingredients. Our diverse portfolio of well over 500 beer brands includes global brands Budweiser®, Corona® and Stella Artois®; multi-country brands Beck's®, Castle®, Castle Lite®, Hoegaarden® and Leffe®; and local champions such as Aguila®, Antarctica®, Bud Light®, Brahma®, Cass®, Chernigivske®, Cristal®, Harbin®, Jupiler®, Klinskoye®, Michelob Ultra®, Modelo Especial®, Quilmes®, Victoria®, Sedrin®, Sibirskaya Korona® and Skol®. Our brewing heritage dates back more than 600 years, spanning continents and generations. From our European roots at the Den Hoorn brewery in Leuven, Belgium. To the pioneering spirit of the Anheuser & Co brewery in St. Louis, U.S. To the creation of the Castle Brewery in South Africa during the Johannesburg gold rush. To Bohemia, the first brewery in Brazil. Geographically diversified with a balanced exposure to developed and developing markets, we leverage the collective strengths of nearly 200,000 employees based in more than 50 countries worldwide. For 2017, AB InBev's reported revenue was 56.4 billion USD (excluding JVs and associates).
About DS Smith: DS Smith is a £5.8 billion packaging and plastics multinational with operations in 37 countries, employing 28,500 people. We create and deliver innovative, sustainable packaging solutions that consider the entire supply chain. These solutions energize sustainable growth – for our customers and consumers, our people, our business and shareholders and, most importantly, our environment. We are redefining packaging for a changing world. The Plastics Division of DS Smith is a 30-year manufacturer of flexible packaging, filling equipment, dispensing solutions and rigid returnable packaging. Plastics operates out of 28 sites in 14 countries across Europe, North America, Asia and Australasia. As a seamless international supplier, we supply products and services anywhere in the world, meeting the most stringent of customer requirements. The AkyPak line of reusable packaging includes bulk containers, boxes, trays and totes. Our reusable packaging solutions are characterized by their durability, light weight, long life span/cycle, recyclability and reusability. Benefits include savings in logistics and transportation costs; efficiencies in material handling and operations; and reduction of waste and of carbon footprint.
CONTACT INFORMATION
Tim Debus, President & CEO
Reusable Packaging Association
(813) 358-5327
tdebus@reusables.org
Source: Reusable Packaging Association
Related Media
Tags
Additional Links