Retailers Inflate Prices in the Run-Up to Black Friday to Overstate Discounts
Product analysts discover rampant price manipulation by retailers in the run-up to Black Friday to overstate discounts and mislead consumers
Press Release
-
updated: Nov 15, 2018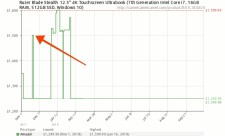 NEW YORK, November 15, 2018 (Newswire.com) - When researching price history to make predictions about what deals might be available for Black Friday in 2018, product analysts at BlackFridayHits.com came across an interesting trend. They noticed for many products, prices are being increased in the run-up to deals week. On Black Friday, retailers then discount the product, sometimes back to its normal RRP, to create the illusion of a great deal.
The team has discovered this trend cropping up across hundreds of different products in varied categories, ranging from 3D printers to DNA testing kits. Here are just a few with suspicious price history over the past year:
Razer Blade Stealth Gaming Laptop - Increased by $250 before Black Friday only to be dropped down to original price.
Stealth Handgun Safe - Price increased around seven to eight percent, then dropped to original RRP for Black Friday.
AncestryDNA - Price raised 25 percent, then discounted by 30 percent on Black Friday.
Google Home WIFI System - Increased to the highest price of the year before Black Friday, then discounted.
QIDI 3DP-QDA16-01 3D Printer - Price hiked around $50 before being dropped by $75.
Discussing the worrying trend, co-founder Will Asbury said, "We see retailers manipulating prices online regularly. It's a common tactic used to mislead consumers and boost sales. Buyers should always check price history on sites like camelcamelcamel.com before making any online purchase.''​
For a more in-depth analysis of the above products, see this article.
About: BlackFridayHits.com analyzes past data using price trackers to make Black Friday and Cyber Monday deal predictions. They also provide buying guides and reviews for a wide range of products.
Media Contact: 
Will Asbury
Email: press@blackfridayhits.com
Source: Black Friday Hits
Share:
---
Categories: Business Ethics, Shopping
Tags: Black Friday, Cyber Monday, Deals, Discounts, Scams
---