Resume Genius Launches New AI-Powered Resume Builder Software
Press Release
•
updated: Aug 22, 2022
After years of evaluating customer feedback and the needs of the modern job seeker, website ResumeGenius.com has developed and set forth a new version of their popular resume builder software. Created with speed and ease-of-use in mind, the Resume Genius resume generator eliminates the burden of formatting and filling out a resume, and puts power back in the hands of people looking for work.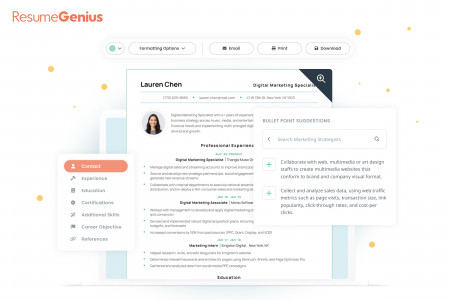 NEW YORK, August 22, 2022 (Newswire.com) - The code geeks and career experts at Resume Genius are proud to announce the launch of their new AI-powered Resume Builder.
Since its foundation in 2009, Resume Genius has transformed into one of the leading career resource websites online, serving nearly 20 million users annually. They strive to provide top-quality, accessible resources for job seekers in the United States and abroad, and their resume builder software is foundational to that mission.
The Journey of Relaunching Their Resume Builder
As Resume Genius continues to solidify itself as the U.S.'s premiere career hub and further expands its offerings, its leaders are determined to ensure both new and existing users know exactly where to find the website's many career-related resources and exactly how to apply them during their job hunt. For these reasons, Resume genius launched an updated homepage that's easier to navigate, as well as a more powerful version of their resume builder that leverages AI content vetted by HR professionals. Visit the new home of ResumeGenius.com's resume builder here:
https://resumegenius.com/resume-builder
By moving their resume builder to a dedicated section on the website, Resume Genius is confident their web application will better serve job seekers and provide them a home base from which to build their resumes, develop their applications, and ultimately grow their careers.
"We believe that by updating our resume builder, job seekers will have greater success applying for jobs. Whether they want to skip straight to making a professional resume or instead read and download our free resources, our website is more prepared than ever to help users earn interviews and land work." - Resume Genius Hiring Manager Geoffrey Scott
User Benefits of the Resume Genius Resume Builder
Resume Genius's new resume builder portal page goes into full detail about the power of their software. However, here are three highlights:
HR & ATS-approved resume templates
AI-powered bullet-point generator
Resume summary generator
More Power to the Modern Job Seeker
Resume Genius is certain job seekers will find their updated resume builder app an indispensable tool on the job hunt. Their cutting-edge software saves each user hours of valuable time on writing and formatting, and even empowers inexperienced candidates by helping them create well-written, convincing job application documents — making a stressful time of life less stressful.
Source: Resume Genius