Respond, Recover & Renew on 9/11 Remembrance Day
Press Release
•
updated: Sep 17, 2018
The Nashville Church of Scientology held a Remembrance Day event in observance of September 11 which led to a conversation around disaster recovery and a day of community service.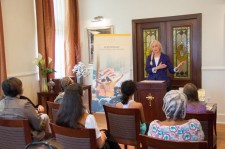 NASHVILLE, Tenn., September 17, 2018 (Newswire.com) - The Nashville Church of Scientology held a 9/11 Remembrance Day breakfast gathering with the theme Respond-Recover-Renew. Just as the Church of Scientology's Volunteer Ministers disaster response movement was inspired by the work of the Volunteer Ministers who served in the aftermath of the World Trade Center attacks in New York City, the Nashville Church followed its Remembrance Day breakfast with a day of community service and volunteering.
According to the Corporation for National and Community Service website, 9/11 Remembrance Day has become a time to reach out and help others.
On September 11, 2001, within hours of the disaster, New York Volunteer Ministers were on-site, providing immediate support to emergency personnel and helping to bring order to the chaos. They continued to arrive from all over the United States and other countries, until 800 had taken their place on the scene, working 24/7 for many weeks alongside New York emergency rescue teams.
Volunteer Ministers provided physical help in the form of food, water, clothing, gear and other necessities. They gave Scientology Assists — actions undertaken to help a person confront physical difficulties — to exhausted police and firefighters overcome with stress, fatigue and shock. They further provided spiritual assistance to those suffering from the loss of friends, family and coworkers.
When it was over, Volunteer Ministers received acknowledgments from numerous officials and civic leaders.
"We pay our respect to those who lost their lives by dedicating ours to service," said Rev. Brian Fesler, pastor of the Nashville Church of Scientology.
During the breakfast, one Volunteer Minister spoke about her experiences in disaster recovery, and a community guest emphasized the importance of working in the cause of peace, not war.
Scientology Founder L. Ron Hubbard once described the Volunteer Minister as "a person who helps his fellow man on a volunteer basis by restoring purpose, truth and spiritual values to the lives of others." Anyone of any culture or creed may train as a Volunteer Minister and use these tools to help their families and communities. Transcending all ethnic, cultural and religious boundaries, the Volunteer Ministers program is there for anyone in need of help. Volunteer Minister training is available free of charge through the Scientology Volunteer Minister website to anyone who wishes to help others at www.volunteerministers.org.
Source: Scientologynews.org
Related Media