RescueCenter.org Offers Justin Bieber a Free Educational Trip to Costa Rica, Will Name Rehab Wing After Justin if He Doesn't Buy a Monkey
Rescuecenter.org a non-profit animal rescue and rehabilitation center in San Jose, Costa Rica does not want Justin Bieber to buy another monkey. The CEO Vanessa Lizano is offering to fly Bieber to her facility for a free educational seminar on the dangers of buying wild monkeys. She also has stated that if Justin abandons his desire to own a monkey she will rename the new on-site animal hospital after Justin honoring him for his smart decision.
Press Release
-
Feb 22, 2016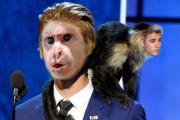 San Jose, Costa Rica, February 22, 2016 (Newswire.com) - It seems that fame and fortune is also accompanied by the rite of passage of making ludicrous and poorly-planned purchases - be it huge houses, fast cars, or exotic pets.  
The latter of those frivolous investments often times is more than the owner bargained for, and that's why Vanessa Lizano, CEO of non-profit Rescuecenter.org, has followed the lead of The North American Primate Sanctuary Alliance (NAPSA) and is pleading with pop superstar Justin Beiber to reconsider the purchase of a monkey, following his comments in a recent interview in GQ Magazine.
Lizano is offering Justin and his entourage an all-inclusive free trip to her Tilaran, Costa Rican facility for educational classes about the hazards of owning a monkey as a pet. If Justin cannot make the trip but will still abandon his hopes of owning a monkey she has promised to name her new rehabilitation center for injured monkeys after  the two-time AMA "Artist of the Year" – the "Justin Bieber Monkey Rehabilitation Center".
Lizano had the following to say, "I believe Justin is an amazing artist. However, with that status there is also amazing responsibility. A person of his stature needs to send the right messages to the world. Owning and keeping a monkey as a pet is not the right message. I hope that if Justin really thinks monkeys are awesome as much as we do here at the Rescue Center he will take us up on our offer and come learn first-hand how to care for them and why they should be released to their natural habitats."
Lizano has stated that  her biggest concern is that Justin is probably oblivious to the fact that younger monkeys suffer severe trauma when separated from their mothers, which leads to aggressiveness and biting as monkeys get older. Also, she feels Justin is probably not aware that monkeys have long life expectancies, with capuchin whiteface monkeys living 40 years or more. That means when Justin is 61 years old and headlining at an off-strip casino in Las Vegas, he'll have to pause between "Baby" and "What Do You Mean?" to feed and care for what will be one cantankerous primate.
Bieber, who came under fire from animal activists after he was forced to abandon his previous pet monkey in Germany due to the country's strict laws regarding exotic animals back in 2013, said he was interested in purchasing another monkey, telling GQ:
"Yeah, one day. Just gotta make sure I got a house and it stays in the f-ing house. I'm not gonna bring him to Germany or travel with it anymore. People are always like, 'Why did you get a monkey?' If you could get a monkey, well, you would get a f-ing monkey, too! Monkeys are awesome."
Monkeys are awesome, Justin. That's one thing Rescue Center can agree with you on. But they're far too awesome to be someone's glamor pet. The offer is on the table: Rescue Center would love to educate and honor you for doing the right thing. See you in Costa Rica!
About Rescue Center: Located in beautiful Tilaran, Costa Rica the Rescue Center is the perfect destination for volunteers and interns from around the world who feel that their hard work and effort can make a difference in the lives of many of the country's injured indigenous wildlife. RescueCenter.org is not a zoo and believes in the simple philosophy of rescue, rehabilitate and release.
For an interview request regarding this PR please email Vanessa Lizano direct at info@rescuecenter.com or visit the website direct.
Share:
---
Categories: Entertainment, Environmentalism, Animal Rights
Tags: animal abuse, animal cruelty, animal cruelty facts, animal protection, animal rights, animal sanctuary, justin bieber
---