Reolink Unveils Brand-New Argus Pro Smart Camera at an Affordable Price, Making Security 100% Wire-Free in All Directions
Press Release
•
updated: Jul 3, 2018
Reolink also upgrades the 4MP RLC-410 PoE IP camera into the 5MP version for stunning clarity.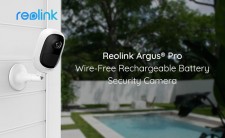 HONG KONG, July 3, 2018 (Newswire.com) - Reolink today introduces its newest Argus family member — Argus Pro — a more powerful, comprehensive and versatile smart security camera than its first generation, to provide another easiest security solution for customers.
Inhering the smart features of the 100% wire-free Argus series, Reolink Argus® Pro is powered by the rechargeable battery (or the solar panel optionally), making customers' home/business security easier & more innovative.
Reolink also upgrades its original 4MP RLC-410 IP camera into the 5MP version for clearer and sharper images.
Check Reolink Argus® Pro here: https://reolink.com/product/argus-pro
Get RLC-410 5MP IP Camera here: https://reolink.com/product/rlc-410
Rewind back to the time when the first Reolink Argus® was launched. It made a big hit in DIY security field immediately. Later, Reolink added Argus 2 (rated by PCMag as one of the best security cameras in 2018) into this top-selling product line — a simple, reliable and versatile smart camera, making home and business security a seamless experience.
Compared with its first generation, Reolink Argus® Pro is powered by the rechargeable battery instead of running CR123A batteries, which frees customers from buying replacement batteries on a daily basis. Customers can also buy the solar panel to get continuous power supply.
Reolink Argus® Pro combines almost every smart feature into a standalone IP camera, making it one of the most feature-laden cameras. Compared with the Argus 2, Argus Pro is much more affordable so customers can protect their home/business with a cost-effective security solution.
Reolink also launches Argus Pro Giveaway (ends on July 28, 2018, PDT) so that customers can have chances to win FREE Argus Pro (5 lucky winners per week).
Reolink Argus® Pro Smart Features Overview
· 100% wire-free rechargeable powered or solar powered optionally
· 2MP Full HD & 33ft infrared night vision
· PIR motion sensor
· Accurate motion detection
· High-quality two-way audio
· IP65 weatherproof
· 130° wide viewing angle
· Live view anywhere any time
· Motion detection record (optional)
The improvement on RLC-410 IP camera (upgrading from 4MP to 5MP high definition) enables customers to get more stunning images and identify more details.
RLC-410 5MP PoE IP camera boasts a great number of superior advantages over regular 1080p and 4MP security cameras, and is equipped with great features to address customer needs.
This camera also benefits from IP66 waterproof rating, and is suitable for both outdoor and indoor use. Customers can place the camera on the porch, garage, garden, office or anywhere without worrying about the weather.
RLC-410 5MP Super HD IP Security Camera Intelligent Features Overview
· 5MP Super HD & 100ft infrared night vision
· IP66 waterproof
· Smart motion detection alerts
· Audio recording
· Remote access anywhere any time
· Works seamlessly with Reolink NVR for continuous recording
Pricing & Availability
Reolink Argus® Pro and RLC-410 5MP IP camera are available on Reolink official online store with the retailed prices at $91.99 & $59.99 respectively (during the pre-order status).
Customers can also buy accessories to expand more possibilities for Reolink Argus® Pro, including the solar panel for non-stop power supply, the rechargeable battery for backup battery, and skin full suit for expanding installation places.
About Reolink
Reolink, a leading provider of home security products and camera solutions, has been dedicating to delivering advanced and high-quality consumers security cameras/system and reliable solutions for home and business. The products range from PoE security cameras/system, wireless security cameras/systems, to wire-free battery-powered security cameras, which are widely used in home surveillance, business surveillance, baby monitoring, etc. Reolink products are available and sold worldwide, providing video surveillance and protection for millions of homes and families.
For more information about Reolink and its products, please visit https://reolink.com, or visit the Reolink US Amazon store: https://amzn.to/2y93Ukj.
Contact
Amanda/PR manager
Email: pr@reolink.com
Tel: +852-30696581
Address: RM.517, New City Center, 2 Lei Yue Mun Road, Kwun Tong, Kowloon, Hong Kong
Reolink Digital Technology Co., Ltd.
Source: Reolink Digital Technology Co., Ltd.