Rename Files in One Go - ASCOMP Releases F-Rename 2.0
Press Release
•
updated: Dec 3, 2020
The new version of ASCOMP's File-Renamer for Windows brings order to every data set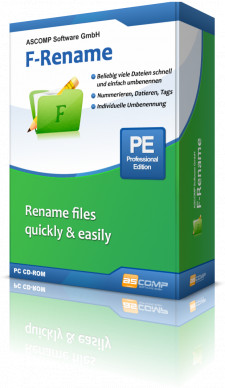 LEONBERG, Germany, December 3, 2020 (Newswire.com) - Whether self-taken photos, music downloaded from the Internet or holiday videos - files usually arrive on the computer with meaningless names. The user can only guess later what content a file might have. That's why ASCOMP has now released its file renaming tool F-Rename in revised version 2.0, thus fighting the data chaos.
F-Rename renames files according to predetermined patterns. Extensive amounts of data can also be processed. The user only determines in which form the renaming of the selected files should take place, the rest is made by F-Rename independently.
"Providing a good overview of the data and making it as easy as possible for the user" is the goal of F-Rename. "At the end of the day, you have other things to do than rename file by file for hours," says Andreas Stroebel, Managing Director of ASCOMP Software.
Nevertheless, professional functions should not be missing. No wonder that the naming can be done by tags, dates and times or data and values that are completely freely selectable by the user. Maximum flexibility and intuitive operation were the main focus of the development of the Windows software.
"To ensure that you always know which files have been renamed, we have integrated detailed logging," says Stroebel. In this way, it is still possible to understand what actions the software has performed after years.
F-Rename is available for free download as a trial version at www.f-rename.com. This version is functionally fully usable for 14 days, after which the full version can be purchased for $19.90.
In addition to F-Rename, ASCOMP also offers backup solutions as well as security and PDF software. Many of the products are free for private use and can be downloaded from the manufacturer's website.
Source: ASCOMP Software
Additional Links