Remove Unnecessary Data From Any Windows PC - ASCOMP Releases Cleaning Suite 4.0
Press Release
•
updated: Jul 13, 2020
New version 4 cleans browser history of Google Chrome, Microsoft Edge and Mozilla Firefox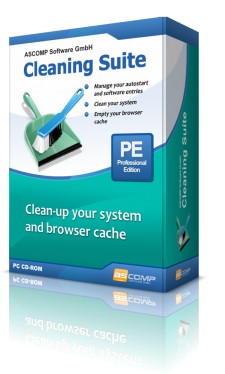 LEONBERG, Germany, July 13, 2020 (Newswire.com) - In earlier times, it was one of the annoying duties of every Windows user to reinstall the system at irregular intervals. Braked by programs that have settled into the autostart areas or left behind junk data during the de-installation, a complete system reset was inevitable. Even today, many programs interfere with the loading process of Windows. ASCOMP's Cleaning Suite puts an end to this and now supports cleaning Chrome, Edge and Firefox.
As one of the few programs of its kind, Cleaning Suite can remove startup entries that are in Windows Task Planning and are difficult to access. "If you are not sure, you can only temporarily disable the start of a program," explains Andreas Stroebel, Managing Director of ASCOMP.
In the new version, functions for cleaning browser histories have been integrated. This eliminates browsing traces, cookies, and temporary files from Google Chrome, Microsoft Edge, and Mozilla Firefox. The user interface has also been improved and the program optimized for use on Windows 10.
Cleaning Suite not only cleans internet browsers, Windows itself can also be freed from temporary data, orphaned program shortcuts, and empty folders. An uninstaller provides the ability to uninstall programs or delete outdated program entries.
Too aggressive registry optimization algorithms of some competing products caused malfunctions on many systems in the past. That's why Cleaning Suite optimizes the Windows Registry very carefully and offers the possibility of a reset. Various optimization areas can be selected or de-selected at any time.
For private users, the software is free of charge; occasionally, product information about other products made by the manufacturer is displayed. The paid version for $19.90 removes this information and provides technical product support.
Learn more about Cleaning Suite and download it at http://www.cleaningsuite.com
Source: ASCOMP
Additional Links