Remodista Recognizes Women Leaders and Innovators in Third Annual Women2Watch Award Show
Over 150 of the top retail and business executives celebrate business disruption in New York and Sydney
Press Release
-
updated: Oct 2, 2018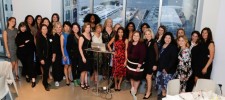 NEW YORK, October 2, 2018 (Newswire.com) - Remodista, Inc., a social think tank focused on bringing disruptors across business areas together to cultivate women leaders and solve critical challenges within retail and finance, hosted their 2018 Global Community Day and Women2Watch Award Show on Thursday September 20, 2018 in New York and Sydney. This day of education, collaboration, and celebration consisted of three parts: Women2Watch Award Dinner, Innovation Lab, and Collective Think.
 The Innovation Lab featured 17 forward-thinking companies who have broken new ground with wearables, accessories, technology, and solutions. This year's event focused on the vendors and retailers who are dedicated to crafting a seamless in-store experience, as well as backend technology that measures, tracks, and helps improve customer experience. A few impressive vendors included:
●      Capgemini showed how to use Alexa to support inventory and supply, enabling  store employees to access critical inventory information without ever having to leave a customer
●      OSF Commerce displayed their LIVE Style Studio, which innovates digital shopping by creating a virtual fitting room for customers in their homes, in public spaces or in retail stores.
●      Duggal brought together visual innovation, interactive digital experiences, and multimedia video through large-format graphics, kiosks, and totems by utilizing the venue's unique features.
"At the Innovation Lab, every vendor brought something new and innovative to the table," says Kelly Stickel, founder and CEO of Remodista. "They were able to share where their ideas came from and sparked inspiration. Also, there was a lot of women-owned businesses that created a community of like-minded individuals."
The Women2Watch Award Show honored 80 women leaders who have addressed and conquered especially difficult challenges across rapidly changing verticals. This year's Women2Watch Innovation Award winners include:
●      Leslie Leifer, VP of Enterprise Strategy and Business Development for 1-800-Flowers.com
●      Julie Shin, Head of Strategic Operations and Innovation, Productivity for Citigroup
●      Kayte Malik, Founder and CEO of Dresscode Tech
●      Alice Kuepper, Event Director, formerly at Online Retailer
●      Stacey Head, Founder and Managing Director, she wear
"I am truly thankful to be counted amongst these amazing women and to have taken this journey with the Women2Watch from years past and those to come," said Leslie Leifer, who recently launched Goodsey, a gifting brand by 1-800-Flowers.
The 2018 Spirit of St. Jude award winners are Monika Kochhar, CEO and Co-founder, Smartgift and Sarah Donges, CEO of Box for Monkeys.
The Collective Think brought together 60 innovators, problem solvers and challenge seekers in retail and technology to resolve and predict challenges related to the internet of things, machine learning and artificial intelligence, customer experience, and commerce. An insight drawn from this year's Collective Think is humanity and people are still the core of AI. Human guard rails and ethical guidance are critical. Remodista will continue exploring this idea as AI continues to proliferate retail and business.
In 2019, Remodista's business coaching community, HALO (Help a Leader Out), will be launching a virtual group. Additionally, Remodista's Look Book, which examines trends and insights in customer service, commerce, manufacturing, real estate, money, artificial intelligence, and sales, will be available in February of 2019. The Look Book will be available in hard-copy as well as online.
Started by Founder and CEO, Kelly Stickel in June of 2010 and based in Chicago, Remodista has grown into a global force that helps bring disruptors across business areas together. Their mission is to provide insight, education, and innovation to global brands through collaborative research and analysis. The globally-recognized programs like Women2Watch, HALO (Help a Leader Out) Community, and business coaching for real people help offer clear value and differentiation amongst other analyst organizations. Remodista is building a platform to help cultivate women leaders and solve critical challenges that the retail and financial industries are facing. For all media inquiries, please reach out to: Lyndsay Goldstein at  lyndsay@exclusivepr.biz  or at (732) 570-9423.
# # #
Source: Remodista
Share:
---
Categories: Retail Technology
Tags: awards, innovation, retail, technology
---