Remind the Nation Organizer Responds to Allegations of Sundance Discrimination
Melissa Jensen, organizer behind Sundance's Remind the Nation event, speaks out against allegations of discrimination against gay veteran, Garrett Goodwin.
Press Release
-
updated: Feb 7, 2017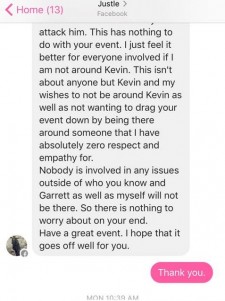 Park City, Utah, February 6, 2017 (Newswire.com) - Melissa Jensen, one of the organizers behind Sundance Film Festival's Remind the Nation event, is speaking out against allegations of discrimination against openly gay veteran, Garrett M Goodwin. Last week, allegations began circulating that Goodwin was denied entry to the Remind the Nation event simply based on his sexuality.
Jensen says the allegations are completely and utterly false, and has the text messages and statements from security to prove it.
On January 24, Justin Youse, a former producer for Remind the Nation and a good friend of Goodwin's, took to Facebook to explain why he believed Goodwin was denied entry to the event. The video led to a media feeding frenzy, in which Jensen and her staff quickly became the villains by many.
The problem is, Jensen has text messages from Youse that prove that Goodwin wasn't planning on attending the event and was only denied entry because he was not on the guest list.
Youse and Goodwin originally planned on attending the event and were put on the guest list by Jensen. However, on the morning of January 23rd, Youse texted Jensen saying they would not be attending due to his personal issues with some of the security staff. At that point, they were subsequently removed from the guest list.
A direct quote from Youse's text message reads, "This isn't about anyone but Kevin and my wishes to not be around Kevin as well as not wanting to drag your event down by being there." He adds, "Garrett as well as myself will not be there. So there is nothing to worry about on your end. Have a great event."
The Kevin in question is Kevin Williams, a volunteer for Remind The Nation.
TJ, an off-duty police officer acting as volunteer security for Remind The Nation, explains the encounter with Goodwin. "Garrett Goodwin was denied entry to the event because he was not on the list of invited guests. Upon arrival at the venue, Garrett was immediately informed that he could not enter the event. There was absolutely no physical contact with Garrett from any member of the security detail. He was explained that he could not enter the venue because he was not on the list."
The security department followed up with this statement, "The decision to deny entry for Mr. Goodwin was made solely by the security team and in no way involved Jake Nold or Melissa Jensen."
Honoring veterans has long been a cause near and dear to Jensen's heart. She's someone with a long history of volunteerism and her past events for veterans have been applauded by both the media and event attendees. Contrary to allegations, Jensen does not profit from these events, and in fact performs all of her work as a volunteer.
Jensen says, "I have many friends and family members who have served in the military and I understand firsthand some of the struggles military families go through. I have had to sit home wondering if my family members would come home alive. This event was put together to honor veterans and their families, and I hope we can get back to honoring them the way they should be honored, instead of focusing on unfounded personal attacks against my staff and I."
In addition to her activism for veteran's causes, Jensen also has a personal history of participating in PRIDE parades and advocating for LGBT rights.
She adds, "To insinuate that I or anyone on my staff would ever deny someone entry to an event so near and dear to my heart due to their sexual orientation isn't only false; it's just plain absurd. I have nothing but respect for his service to the country, as well as respect for the service of every other veteran, regardless of sexual orientation."
Monica B, a personal friend of Jensen's adds this character statement, " The love and support Melissa has for people in the LGBT communities, and the love and support she has for me, a lesbian woman  who felt unsafe to come out, astounds me. I have never met anyone quite like her. She gives me hope that there are many more beautiful people out there."
In a final statement, Jensen makes a plea to anyone who has ever been falsely accused of anything. She says, "It's sad that we live in a nation where anyone can pitch or write 'news' that's completely unfounded, without proper due diligence required of any responsible journalist. It's also sad that one person's personal vendetta against someone on my security staff has completely undermined the work we've put in to honor these heroes. I hope that people will look beyond the jaded view of some, and remember the underlying spirit of the event."
Source: Remind the Nation
Share:
---
Categories: Celebrities, Arts and Entertainment, Military
Tags: garrett goodwin, melissa jensen, remind the nation, sundance
---