Remarkable Rare Book Inscribed by President Abraham Lincoln
Press Release
-
updated: Jun 30, 2017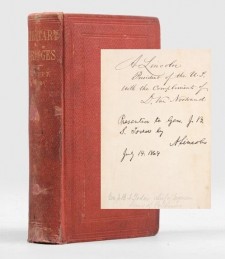 London, UK, June 30, 2017 (Newswire.com) - As American Independence Day approaches, Peter Harrington of London has an extraordinarily rare book for sale which was inscribed by President Abraham Lincoln, the 16th President of the United States. This presentation copy of Military Bridges by Herman Haupt was inscribed to his wife's cousin in gratitude for his loyalty, on July 14, 1864. As Peter Harrington say, "Books inscribed by Lincoln are very uncommon — since 2001 only three inscribed books have come to auction and this copy of Haupt's important work has a superb association." (£100,000)
Peter Harrington Rare Books of London also has a number of other rare books for sale which were owned or inscribed by American Presidents including:
-       A first-edition of Observations sur la Virginie by Thomas Jefferson (1786), an American Founding Father, principal author of the Declaration of Independence and the 3rd President of the United States. This first published edition of Jefferson's great work on Virginia, includes the famous map engraved in London to his instructions (£75,000);
-       Thomas Jefferson's copy of the seventh volume of Molière's works, from his private library at Poplar Forest, with his "secret" marks and the ownership inscription of his eldest daughter, Martha Randolph Jefferson. As Peter Harrington say, "Books from Jefferson's libraries rarely appear for sale and this volume is particularly appealing in that Molière was a favourite author and Poplar Forest his most intimate library" (£27,500);
-       A unique first edition copy of Crusade in Europe by Dwight Eisenhower (1948) which was inscribed by Harry S. Truman, who was the 33rd President of the United States. This book is also inscribed by Churchill, Eisenhower, Marshall, Montgomery, and the top Allied generals and diplomats of the Second World War (£150,000);
-       A first edition, presentation copy, of the Inaugural Address by John F Kennedy (1961) the 35th President of the United States. This is considered to be one of the most famous speeches of the 20th century and was inscribed by John F. Kennedy to Jackie's secretary - "To Mary and Ray Gallagher, with warm regards from their friend! John Kennedy" (£35,000).
Background on Peter Harrington Rare Books, London
Peter Harrington was established in 1969 and specialise in selling and buying the finest quality original first editions, signed, rare and antiquarian books, fine bindings and library sets. In the 1970s Peter Harrington started a successful map and print business and in 2000 they established The Chelsea Bindery which employs some of the finest binders in the world who make fine bindings, preservation boxes and restore books.
Their four-storey double-fronted shop at 100 Fulham Road, Chelsea, London, has more than 20,000 volumes and 6,000 prints and old maps whilst their recently opened new shop in Dover Street, Mayfair, has over 7,000 books arranged over two floors. The shops are open daily from Monday to Saturday and visitors who want to buy or sell books or just browse are warmly welcomed. Peter Harrington offer an unconditional guarantee on all items they sell.
Pom Harrington
The company is now run by Pom Harrington (Peter's son) who has been part of the business for more than 20 years. He has surrounded himself with over a dozen very experienced experts, many of whom are internationally known and are as passionate about books as he is.
Contact:
For further information on Peter Harrington, hi-res images, copies of their catalogues and to arrange visits to their shops or interviews with their experts please contact:
Silks PR & Marketing: www.silkspr-marketing.com
Sarah Lacaille
E: sarah@silkspr-marketing.com
Katie Barkshire
E: katie@silkspr-marketing.com
Source: www.silkspr-marketing.com on behalf of Peter Harrington Rare Books
Share:
---
Categories: Books, History, Lifestyles
Tags: Abraham Lincoln, American Independence Day, inscribed, Rare books
---