Reliance Dental Introduces Scholarship to Promote Better Oral Health Habits for College Students
Press Release
-
updated: Apr 12, 2017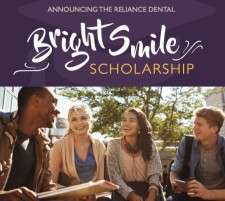 Alsip, IL, April 12, 2017 (Newswire.com) - Reliance Dental, manufacturer of dental acrylics and other dental supplies for over a century, is proud to introduce the Bright Smile Scholarship program.  The program will award $2,500 to help with college, grad school or dental hygienist education costs to a student who practices and helps promote good oral health habits.
Recent research shows only a little over 50% of Millennials make regular visits to the dentist, the lowest percentage of any age group.  They are busy with college and adjusting to a new lifestyle, plus they are often away from their parents and their dentists, and going to the dentist simply becomes a low priority.   The result is an upturn in Millennial patients who need major dental work because they have failed to see a dentist for several years.
A requirement of the Bright Smile Scholarship is that applicants must get sign off as practicing good oral health habits by a licensed dental office.  "We're hoping driving students to a dental office to get sign off for their scholarship application will encourage at least some of them to do more, like getting an annual check-up," said Tom Rissman, CEO of Reliance Dental.  "Any increase in oral care for this group is a plus."
In addition, applicants are required to submit a poster design or social media post promoting the benefits of good dental habits.  This will also help get Millennials thinking about their own dental care, and judging of these designs will be a key factor in who will ultimately be awarded the scholarship.
The idea for the scholarship came from Reliance's marketing agency TBI.  TBI president Tom Baer says, "We did substantial research during our annual marketing planning process for Reliance, and as far as we can tell, no one has ever used a scholarship as an incentive to encourage better oral care.  This program can help both dentists and patients, so there's really no downside."
Applications for the scholarship can be made at scholarship.reliancedental.net, and are being accepted through July 15, 2017.  The scholarship will be awarded in early August.
The program is open to any student, 17 years of age or older who has been accepted to a 2 or 4-year institution of higher learning, or a facility that provides education toward being certified as a registered Dental Hygienist in the 50 United States or District of Columbia.  Students must also have a 3.0 grade point average to qualify.
More information, including complete rules can be found at www.scholarship.reliancedental.net.
About Reliance Dental
Reliance Dental Manufacturing, LLC, a privately held company located in Alsip, Illinois, has been producing dental acrylics and supplies for dentists worldwide for over 100 years, and is renowned for providing only the highest quality products, surprisingly affordable prices, and personal attention to every customer.  Reliance manufactures DuraLay Brand pattern resin and temporary crown and bridge products, as well as DuraSeal temporary filling acrylic and a full line of denture re-line and rebase materials (DuraBase, DuraBase Soft, DuraLiner II, Dura Rely-A-Soft and DuraConditioner).  The fact that Reliance products are used daily by thousands of dentists across the globe is testimony to their high standards for accuracy and reliability.  The company is fully ISO certified and rigorously complies with all requirements for continuous improvements.
For more company information visit www.reliancedental.net or call 708/597-6694.
Bright Smile Scholarship Media Contact:
Tom Baer​
​TBI Marketing
847-274-9003
​tom@tombaer.com
Source: Reliance Dental Manufacturing, LLC
Share:
---
Categories: Colleges and Universities, College news, Financing and Student Loans, Dentistry, School Funding
Tags: College, College Students, Dental Health, Dental Industry, Millennials, Oral Health, Scholarships
---