Registered Dietitian Carolyn O'Neil Gives Tips for Eating Better This Summer on Tips on TV Blog
Press Release
•
updated: May 25, 2018
Author of "The More You Know, The More You Can Eat!" shared her Advice on Choosing Better Summer Food and Beverage Options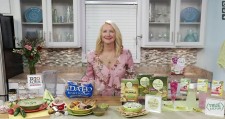 ATLANTA, May 25, 2018 (Newswire.com) - From fresh fruits and vegetables to wholesome dairy and meats, cereals, snacks and more, Registered Dietitian Carolyn O'Neil knows good food. Carolyn is the co-author of "The Dish on Eating Healthy and Being Fabulous!". Carolyn is a contributor to many publications as a nutrition expert. This award-winning journalist shares some information about some of her favorite organic and better for you products to eat and drink this Summer.
A Good Place to Start for Staying Healthier
Staying hydrated is one of the keys to being healthy and happy but, for lots of people, drinking enough water every day is a challenge. Made with only simple ingredients, True Lemon and True Lime provide refreshing, tasty options to flavor water and help you drink more water, deliciously. Only 10-calories a stick packet, they are perfect for on-the-go busy lifestyles. True Lemonades and Limeades are made with only simple and clean, non-GMO ingredients including citrus oils and juices from citrus fruits. They contain no artificial sweeteners, flavorings or preservatives, so drinkers can feel great about quenching their thirst and giving them to the family. They come in nine delicious flavors. For more information, visit www.truelemon.com. True Lemon is sold in 37,000 retailers nationwide on Amazon, and truelemonstore.com.
Better Snack Options This Summer
One of the keys to a healthy diet is smart snacking. One option is Harvest Stone Crackers. They are organic, gluten-free, and non-GMO, great for a flavorful and healthful snack with the crunch everyone craves. Harvest Stone crackers are made from simple, wholesome ingredients such as brown rice, chickpeas, flax seeds and sesame seeds, making it easier to make better-for-you choices. Harvest Stone crackers come in a variety of terrific flavors including Original, Toasted Sesame, Tomato Basil and Cracked pepper and they pair well with all of the favorite dips like a black bean guacamole. Best of all, each serving size of 15 crackers is only about 130 calories so there is no need to worry about overindulging. For more information, visit harveststone.com
Healthy Food Options That Can Make a Big Difference
Sometimes there is confusion on healthy food options. Carolyn believes that people must learn what really is healthy. One medium-size potato has only 110 calories and no fat, cholesterol, sodium and is naturally gluten-free. They are a good source of important nutrients like potassium and vitamin C. In fact, one potato has more potassium than a banana, and that can make a big difference in what people eat. Be sure to buy genuine Idaho Potatoes. Look for the "Grown in Idaho" seal on the bag. This Latin Idaho Potato Power Bowl is made with delicious fresh ingredients including healthy Idaho Potatoes! For more information, visit idahopotato.com.
Ways to Add Extra Flavor When Cooking
When adding a pop of spicy flavor summer foods without fat or a lot of calories, reach for Rio Luna Organic Peppers. They are available in grocery stores nationwide in four spicy and easy-to-use varieties: Diced Jalapenos, Nacho Sliced Jalapenos, Diced Green Chiles, and Large Chopped Green Chiles. You can create delicious recipes like a Honeydew Melon & Green Chile Gazpacho that is just right for lighter, summertime fare. This recipe fits into a Vegan diet and all it calls for are the ingredients and a blender. These peppers are great to have on hand to use in recipes or sprinkling them on fresh salads or in a light and healthy wrap. Rio Luna Organic Peppers are a great secret ingredient to add delicious flavor to any favorite dish. For more information, visit www.riolunapeppers.com.
Contact: tipsontv@gmail.com
www.tipsontv.com
Source: Tips on TV
Related Media