Regional Medical Group Launches Its 17th Auto Accident Medical Center in AUGUSTA, GA
Press Release
•
updated: Jun 12, 2019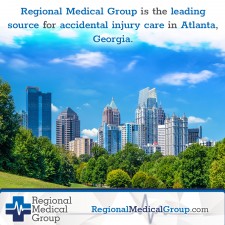 ATLANTA, June 12, 2019 (Newswire.com) - Personal Injury and Interventional Pain Management Clinic, Regional Medical Group (RMG), located in Atlanta, Georgia, provides injury care for patients suffering from pain associated with motorcycle and automobile accidents. With the launch of their 17th location, Regional Medical Group makes it easy for accident victims in need of care to contact a medical provider and get the help they desperately need.
The new Regional Medical Group location in AUGUSTA, GA brings decades of expert medical care and physicians to the area. Patients who have been struggling with accident-related pain no longer have to travel long distances for care, pain management, and rehabilitation.
"Since day one, we have been on a mission to bring compassionate care to people who need it most. We are thrilled to see the relief each facility brings to care seekers every time a new RMG medical center opens its doors," said Mark Schwaiger founder of RMG.
Regional Medical Group's mission is to provide the best in premium care for whiplash, lower back pain, pinched nerves, herniated discs, shoulder or knee pain, head traumas such as TBIs or concussions, as well as a multitude of other injuries related to automobile accidents.
Regional Medical Group's in-house interventional pain management facilities provide the very best in cutting-edge medical procedures to treat acute pain and get patients on the road to recovery. Regional Medical Group is the leading source for accidental injury care in Atlanta, Georgia, and the surrounding areas making it as easy as possible for injured patients to start their treatment process.
Injured patients can book their appointment using the newly updated appointment system on https://regionalmedicalgroup.com/contact/
To learn more about Regional Medical Group, their doctors and locations, as well as appointment availability, visit https://regionalmedicalgroup.com
For media or press inquiries, please contact media relations liaison Dana Blickensderfer at Dana@RMInnovative.com.
About Regional Medical Group
Regional Medical Group (RMG) is a team of highly qualified accident doctors and medical staff who have teamed up with an extensive network of chiropractors that specialize in the treatment and care of patients who have been injured in any form of automobile accident, motorcycle accident, semi-truck accident, Uber auto accident, Lyft auto accident, slip-and-fall, or other work-related accidents. Regional Medical Group helps patients focus on treatment to get on the road to recovery. For more information or to book an appointment today at Regional Medical Group visit https://regionalmedicalgroup.com
Other Locations
Regional Medical Group's locations located in the Atlanta area include: Douglasville, Morrow, East Point, Decatur I, Decatur II, Sandy Springs, Lithonia, Duluth, Stockbridge, Columbus, Macon, Augusta, Athens, Gainesville, Marietta, and more.
Source: Regional Medical Group
Tags
Additional Links