Regional Medical Group Extends Aid to Hurricane Dorian Survivors in the Bahamas
Regional Medical Group CEO, Dr. Mark Schwaiger, has sent its corporate jet to the islands of Grand Bahama and Great Abaco to assist in relief efforts just after Hurricane Dorian.
Press Release
-
updated: Sep 10, 2019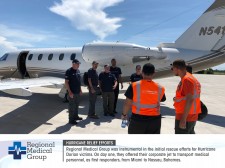 ATLANTA, September 10, 2019 (Newswire.com) - ​Regional Medical Group was instrumental in the initial rescue efforts for Hurricane Dorian victims. On day one, they offered their corporate jet to transport medical personnel, as first responders, from Miami to Nassau, Bahamas. On day two they flew in water filtration systems from Nassau directly to the island of Freeport. Due to the wreckage, no large aircraft was able to land, only small private jets. On top of that, there was no electricity anywhere on the island so refueling planes was also out. Regional Medical Group pilots describe the aerial view as devastating. Bahamian officials made sure everyone on the ground knew that this round of supplies were provided by their "friends back in Atlanta."
The devastating events of Hurricane Dorian have left more than 70,000 people homeless, without power, or access to food and clean water. Regional Medical Group CEO, Dr. Mark Schwaiger, has sent its corporate jet to the islands of Grand Bahama and Great Abaco to assist in relief efforts. As many of you know, Dr. Schwaiger lived in New Orleans during Hurricane Katrina. He has a soft spot in his heart for hurricane victims.
From the entire team at Regional Medical Group, our partners, and associates; we extend both our hearts and our hands to assist in the relief efforts for the victims of Hurricane Dorian.
Hurricane Dorian, the category 5 hurricane, has caused catastrophic destruction once it made landfall this past Sunday afternoon and continues to wreak havoc on the families in the Bahamas. They need your help, fast. Donate today at https://pennyappealusa.org.
For media or press inquiries, please contact media relations liaison Dana Blickensderfer at Dana@RMInnovative.com.
About Regional Medical Group
Regional Medical Group (RMG) is a team of highly qualified accident doctors and medical staff who have teamed up with an extensive network of chiropractors that specialize in the treatment and care of patients who have been injured in any form of automobile accident, motorcycle accident, semi-truck accident, Uber auto accident, Lyft auto accident, slip-and-fall, or other work-related accidents. Regional Medical Group helps patients focus on injury treatment without the stress of how to pay for it.
Regional Medical Group is standing by to help with its remarkable network of affiliate chiropractors by finding its patients a "chiropractor near me." For more information, visit Regional Medical Group online at RegionalMedicalGroup.com or call today.
Regional Medical Group is the one-stop solution for accidental injury care.
Injured patients can book their appointment using the newly updated appointment system on https://regionalmedicalgroup.com/contact.
Source: Regional Medical Group
Share:
---
Categories: Healthcare and Medical News
Tags: ATLANTA-GEORGIA-DOCTOR, AUTO-ACCIDENT-DOCTOR, CHIROPRACTOR-NEAR-ME, HURRICANE-DORIAN, NASSAU-BAHAMAS, PAIN-CLINIC, PAIN-MANAGEMENT, PAIN-RELIEF, PERSONAL-INJURY, REGIONAL-MEDICAL-GROUP
---