Regional Medical Group and Onyx Imaging Support Georgia Chiropractic Association's 107th Annual Fall Conference & Trade Show
Press Release
•
updated: Oct 16, 2019
Regional Medical Group and Onyx Imaging are two of the many to sponsor Georgia Chiropractic Association's 107th Annual Fall Conference & Trade Show. A 3-Day Event Featuring Medical Industry Professionals. Guests can register to attend at https://bit.ly/2IBiROS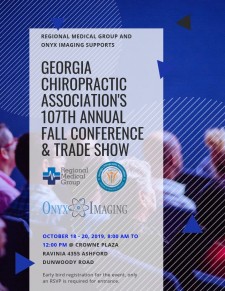 ATLANTA, October 16, 2019 (Newswire.com) - ​Regional Medical Group and Onyx Imaging are two of the many to sponsor for Georgia Chiropractic Association's 107th Annual Fall Conference & Trade Show.
The 3-day event is an opportunity for attendees to listen, learn, and engage with, doctors, chiropractors, attorneys, and medical professionals that are currently working in the fields of law and medicine.
Each day will feature a wide variety of chiropractic topics from law to nutrition to adjusting techniques.
The event will begin on Friday, October 18, 2019, 8:00 AM to Sunday, October 20, 2019, 12:00 PM at Crowne Plaza Ravinia located at 4355 Ashford Dunwoody Road. Early bird registration for the event, only an RSVP is required for entrance.
Featured sponsors Onyx Imaging and Regional Medical Group and its staff will be in attendance providing first-hand knowledge of its innovative patient solutions and service offerings. Oynx Imaging provides cutting edge medical imaging for auto-accident injury victims. Regional Medical Group provides neck, back, and spine injury victims with a network of doctors, chiropractors, and medical professionals who assist patients on the road to recovery.
At Regional Medical Group (RMG), its offices have introduced 3D imaging, provided by Onyx Imaging, to its many service offerings. 3D imaging is the groundbreaking medical visualization software that is giving radiologists and surgeons a powerful new way of looking at human anatomy. RMG is the one and only medical provider, with in-house MRI facilities, able to bring this revolutionary new software to the public in Atlanta, Georgia.
Attendees will be able to look into the latest technology in the industry, innovative 3D imaging in a virtual reality tour experience provided by Onyx Imaging at the event.
Attendance to the Georgia Chiropractic Association's 107th Annual Fall Conference & Trade Show is by registration only. Guests can register to attend at https://bit.ly/2IBiROS
The host hotel has offered all registrants reduced-rate accommodations. Details can be discovered on the registration page.
For media or press inquiries, please contact media relations liaison Claudia Tran at claudia@rminnovative.com.
About Regional Medical Group
Regional Medical Group (RMG) is a team of highly qualified accident doctors and medical staff who have teamed up with an extensive network of chiropractors that specialize in the treatment and care of patients who have been injured in any form of automobile accident, motorcycle accident, semi-truck accident, Uber auto accident, Lyft auto accident, slip-and-fall, or other work-related accidents. Regional Medical Group helps patients focus on injury treatment without the stress of how to pay for it.
Regional Medical Group is standing by to help with its remarkable network of affiliate chiropractors by finding its patients a "chiropractor near me." For more information, visit Regional Medical Group online at RegionalMedicalGroup.com or call today.
Regional Medical Group is the one-stop solution for accidental injury care. Injured patients can book their appointment using the newly updated appointment system on https://regionalmedicalgroup.com/contact
About Georgia Chiropractic Association
Since 1912, the Georgia Chiropractic Association has been protecting the health and wellness of patients by promoting the rights of Georgia doctors of chiropractic to practice within the entire scope of their education and training. For more information, please visit www.gachiro.org
Source: Regional Medical Group
Tags
Additional Links