Regional Human Rights Summit Focuses on Education
Press Release
•
Aug 12, 2016
Young Latin American advocates meet to coordinate plans and address gross human rights violations in their countries.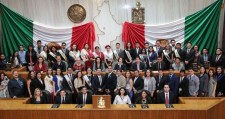 Nueva Leon, Mexico, August 12, 2016 (Newswire.com) - The 23 chapters of Youth for Human Rights International across six Latin American countries share a common goal—to make human rights a reality.
These are countries that suffer from egregious human rights violations—from extrajudicial executions, to the jailing of innocent men and women, government corruption and human trafficking.
Youth for Human Rights maintains that human rights education is the long-range solution.
Youth delegates from Mexico, Guatemala, Costa Rica, Ecuador and Venezuela gathered for a three-day Human Rights Summit at the capitol building of the Mexican state of Nuevo Leone. Representatives from the state's human rights commission and the Mexico Congress Center of Legislative Studies attended and a state representative delivered the keynote address.
Each youth delegate presented an annual report of his regional accomplishments.
"There is a long way to go," said one youth delegate, "and we can be part of making a better world through respect, knowledge and dissemination of human rights."
The Church of Scientology supports Youth for Human Rights. Scientologists on six continents engage in collaborative efforts with government agencies and nongovernmental organizations to bring about broad-scale awareness and implementation of the 1948 United Nations Universal Declaration of Human Rights, the world's premier human rights document.
Read the article on the Scientology Newsroom.
Source: ScientologyNews.org
Related Media