Regional Champion Los Angeles Youth Football Players Who Won, May Actually Lose
Youth football players earned a spot to play in the national championship, but can't afford to go
Press Release
-
updated: Dec 8, 2017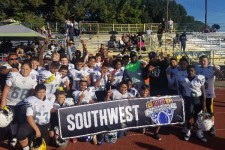 LOS ANGELES, December 8, 2017 (Newswire.com) - A final push is being made to raise money to send the FBU LA Central 7th Grade team to compete in the National Championship in Florida. On the first weekend of December, LA Central defeated Arizona and Orange County to become the first FBU LA Central team in history to ever compete on a national level.
The FBU Central LA 7th grade teams consist of 23 local inner-city youth all-star football players. This is a unique format as FBU draws star players from every local league (with no weight limits).
Since the tournament is scheduled a few days before the Christmas holiday, the flight and lodging costs are $900-$1000 per player. Due to inflated prices during the holiday season, many players may not be able to make it.
Fred Arteaga, the Los Angeles and Orange County FBU director is personally footing the bill for all the coaches, and corporate sponsor Discount Two-Way Radio has donated $600 to the travel fund. In addition, WingStop has also decided to help out by providing gift certificates to be raffled off. But time is running out, and all players need to be in Naples by Dec. 15.
Team Mom, Phenice Hurtado, has also set up a GoFundMe campaign. "These boys started gelling their chemistry back in early November and now have an opportunity to gain the priceless experience of representing not only themselves but their state, teams, coaches, family and friends who have supported them in becoming quality citizens, successful students and outstanding athletes," she said.
"The boys worked so hard to get to this point. It would be devastating if any player doesn't get the opportunity, and is left behind, these guys are a real team — they belong together," says parent Ben Burns.
"These kids will get a chance to be exposed to major college football programs for an opportunity to earn a scholarship. College recruiting is getting younger and younger. Over 30 athletes alone from last year's FBU tournament received D1 offers."
###
About FBU
The FBU National Championship tournament celebrates and promotes youth football through uniting all-star athletes of all backgrounds from across the United States in a true, one-of-a-kind national tournament. The only national football tournament of its kind, the annual FBU National Championship crowns a national champion from brackets in grades 6th, 7th, and 8th.
Contact
Fredy Arteaga - Director of LA/OC
626-437-3020​
​arteaga.fred@gmail.com
Source: FBU LA
Share:
---
Categories: Non-Profit Schools and Institutions, School Sports, Football, High School Sports
Tags: championships, college scholarships, FBU, gofundme, sponsorship, youth football
---