Refine Technology, LLC Establishes East Coast Distribution for New 1.5" Single Use Connector
Company expects to gain traction for single-use bioprocessing applications requiring more rapid sterile fluid transfer rates.
Press Release
-
updated: Jul 11, 2017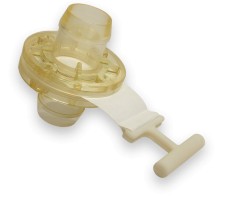 PINE BROOK, N.J. , July 11, 2017 (Newswire.com) - Today, Refine Technology, most known for developing the award-winning ATF™ System for cell perfusion, announced distribution arrangements with three companies to help promote and sell its new CleanLine™ 1.5" Single Use Connector on the east coast.  Refine Technology has partnered with Triangle Process Equipment in Wilson, North Carolina, Accuflow Systems in Frederick, Maryland and Casella Process Systems in Barrington, New Hampshire to help develop the market for improved high volume, low shear sterile fluid flow rates in single-use bioprocessing. 
"We are very excited to be working with each of these companies," said Chris Bartlett, Refine Technology's Business Development Director. "Each company has unique strengths in the bioprocess and single use bioprocessing market as well as existing relationships with each other. Information and resources are shared along the east coast which is a huge benefit to end users looking for a comprehensive and efficient supply chain."
With flow rates of up to 290 liters/minute, the CleanLine™ 1.5" Single Use Connector was developed to address sterile fluid flow inefficiencies with 2,000 liter or larger single-use bags (SUB's) that are constrained by smaller 1" sterile fluid transfer lines between process steps. There are many other application areas for this new connector, which was launched in January 2017, including media preparation and transfer, upstream to downstream transfer, sterile waste removal from the process stream, connecting hybrid stainless steel / single-use bioreactor systems and any other areas where rapid sterile fluid flow rates with low shear are important.
According to Erik Mueller, General Manager of Accuflow Systems, "The Cleanline 1.5" Single Use Connector will enable customers to efficiently transfer large volumes of sterile liquid media and shorten the emptying of large bioprocess bags from what used to take hours to minutes, improving operational efficiencies. The sales teams at Accuflow, Triangle and Casella will be able to offer this unique product across the entire east coast and support Refine by stocking the product at all of our warehouses."
Refine Technology looks to continue expansion of its distribution network across the U.S. and internationally, but views the east coast as a strong cornerstone to help build awareness to this new market for high volume, low shear sterile fluid transfers.
About Refine Technology, LLC; Pine Brook, New Jersey: Refine Technology is based in Pine Brook, New Jersey and was founded in 1999 with a vision to develop and bring to market products in the field of animal cell culture. Following the successful sale of its award-winning ATF™ system for cell perfusion product, Refine Technology has been developing innovative technologies for the bioprocess and cell culture market that address unmet needs and inefficiencies. Refine Technology, LLC currently has several products in its R&D pipeline that are expected to be released later in 2017. Further information may be found at www.refinetech.com.
About Triangle Process Systems; Wilson, North Carolina: Founded by a veteran of the sanitary processing equipment industry, Triangle Process Equipment has dedicated the past 15 years to becoming the industry's go-to resource. Immersed in the processing equipment industry, our sales representatives have a thorough understanding of the nuances of the pharmaceutical processing, cosmetics manufacturing, food processing and beverage manufacturing markets. By operating with a sales and service approach driven by problem-solving, Triangle Process Equipment delivers specialized solutions to the unique needs of disposable processing equipment customers. Further information may be found at www.4tpe.com.
About Accuflow Systems; Frederick, Maryland: Since 2001, Accuflow Systems has been focused on providing its customers with "Quality products through Quality processes by Quality people." Over the years Accuflow's expertise, supplier network and product selection have grown immensely, but its service has stayed responsive, providing its customers with one-on-one attention. Increasingly, Accuflow's biotech, pharmaceutical and food manufacturing customers face the challenge of meeting stringent quality demands while keeping costs under control. Accuflow Systems understands these demands and has implemented a Quality Management System to confidently deliver you superior products at competitive prices. Further information may be found at www.accuflowsystems.com.
About Casella Process Systems, Barrington, New Hampshire: Casella Process Solutions (formerly Casella Sales and Marketing) has been a leading supplier to pharmaceutical and biotech manufacturing companies in the Northeast for over 20 years. Casella specializes in providing technically sophisticated components and equipment for single-use/disposable and traditional stainless steel process applications. Casella's longstanding relationships with bio-pharm manufacturers and OEMs have given it a depth of understanding of high purity and sterile manufacturing environments. Casella's success has been built entirely on the quality of its service and the quality of the products it has selected to represent. Further information may be found at: www.casellaprocess.com
Media Contact:
Chris Bartlett
Refine Technology
518-727-6747
cbartlett@refinetech.com
Source: Refine Technology, LLC
Share:
---
Categories: Pharmaceuticals and Biotech, Sciences, Production and Manufacturing
Tags: bioprocessing, connector, downstream processing, filtration, single use, upstream processing
---