Reducing the Spread of Coronavirus in Senior Living Communities and Nursing Homes
Press Release
•
updated: Mar 5, 2020
Managing visitors and the health risks they pose to residents by using a digital visitor sign-in kiosk at entrances to Senior Living Communities and Nursing Homes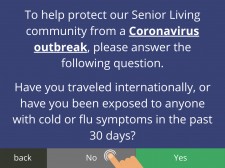 ATLANTA, March 5, 2020 (Newswire.com) - Accushield today announced the release of an updated feature that gives Senior Living and Nursing Home operators the ability to add a Coronavirus Question screen to the Accushield visitor sign-in kiosk(s) at entrances to their communities. This new kiosk screen prompts visitors to answer "Yes" or "No" to a Coronavirus question: Here is an example Coronavirus question that one community added to the visitor sign-in process: Ex: Have you traveled internationally, or have you been exposed to anyone with cold or flu symptoms in the past 30 days? "Yes" responses are then directed to see community management prior to entering the community. Note: Senior Living Community operators can customize this Coronavirus question on the kiosk to address their needs.
"Coronavirus or COVID-19 is a serious risk for seniors, especially for those living in a community environment," says Allen Barnes, CEO at Accushield, LLC.
The Coronavirus screening question feature will be available free of charge for all Accushield Partner Communities starting today. If you want more information regarding the Accushield Visitor Management System, please visit www.accushield.com or call 404.301.3101 to speak with a sales associate.
About Accushield: The Accushield Visitor Management System replaces the paper sign-in logs at the front of Assisted Living, Independent Living, Memory Care, CCRC'S, and Nursing Homes with a touchscreen, badge printing Kiosk that signs-in families and friends, third-party healthcare providers, and vendors.
Source: Accushield, LLC