Reduced VOC and Rising Bio-Based Materials - Tomorrow's Paint & Coating
Press Release
•
updated: May 10, 2017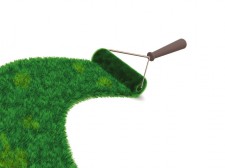 Bangalore, India, May 10, 2017 (Newswire.com) - The Paints & Coating industry has come a long way from the basic layer for corrosion protector to service many functional parameters. These parameters vary from lubrication to conductivity and from optical exposure control to thermal detection systems. The industry is continuously evolving, creating its demand in many new application areas. Government bodies have also been evolving in parallel, changing regulatory frameworks with an objective of reducing negative impact of development on society.
Two trends, which have impacted this industry the most are reducing volatile organic compounds (VOCs) from paints and adaptation of bio-based chemicals. Almost all paints & coatings contain organic compounds as one of the key ingredients, which are released to the atmosphere during and after application. Different types of organic compounds have different health and environment impact.
Due to potential health hazards, most of the VOCs are regulated by governments in various countries across the globe. On the other side, the limited available non-renewable resources have pushed us to decrease our dependence on them and to look out for bio-based manufacturing options. Environment Protection Agency (EPA) of the US and European Chemicals Agency (ECHA) in the European Union are leading the way globally with restriction of harmful chemical exposures regulations.
The competitive environment has also changed with changing industry dynamics. Changing regulations and consumer preferences have forced companies to increase their R&D focus towards green chemicals to replace almost everything from solvents to pigments. Geographically, companies are already facing stiff competition in bigger markets of North America and the European Union. They have been introducing many low VOC content products to gain market share with major players claiming to have reduced average VOC by as much as 9% (AkzoNobel N.V.) by 2015.
Many companies have changed their focus from bigger market to relatively smaller and emerging markets such as BRIC countries, where competition is relatively less and high economic growth is fueling the market demand. Inorganic growth opportunities have also been sought to increase market share. DuPont and Dow Chemical merger is expected to result in the creation of new market leader for industry. On the other hand, Sherwin-Williams has also been acquiring companies to increase the market footprint. Some of the notable addition to their portfolio were Leighs Paints in 2011, COMEX in 2013, and Valspar in 2016. Increasing market consolidation is also changing the market dynamics for new and smaller players catering to specific requirements in the industry. All these strategies and developments are expected to contribute positively towards society saving their financial interests in parallel.
Some of the titles illustrating Infoholic Research's coverage of Paint and Coating industry are:
Marine Coatings Market - Global Trends & Forecast to 2020
https://www.infoholicresearch.com/report/global-marine-coatings-market-drivers-opportunities-trends-forecasts-up-to-2020/
Anti-Reflecting Coatings Market - Global Trends & Forecast to 2020
https://www.infoholicresearch.com/report/global-anti-reflective-coating-market-trends-forecasts-2020/
Waterborne Coatings Market - Global Trends & Forecast to 2020
https://www.infoholicresearch.com/report/global-waterborne-coatings-market-trends-2014-2020/
Aerospace Coatings Market - Global Trends & Forecast to 2021
https://www.infoholicresearch.com/report/aerospace-coatings-market-trends-up-to-2021/
Thermochromic Pigment Market: By Type (Reversible and Irreversible) & By Application (Paint & Coating, Ink Printing, Plastic) – Global Trends and Forecast to 2022
https://www.infoholicresearch.com/report/thermochromic-pigment-market-trends-forecasts-2022/
Photochromic Coating Market – Drivers, Opportunities, Trends, & Forecasts up to 2022
https://www.infoholicresearch.com/report/global-photochromic-coating-market-forecast-upto-2022/
Source: Infoholic Research