Redi Enterprise Development Enhances RediVerify - Industry Leading Fraud Prevention Solution
-- RediVerify Enhancements --
Press Release
-
updated: Oct 17, 2017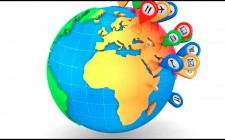 WARRIOR, Ala., October 17, 2017 (Newswire.com) - Redi Enterprise Development is a leading risk management software provider with a comprehensive suite of lending, compliance, and fraud prevention solutions. Through Redi's unmatched, superior service, they focus on reducing operational risk for institutions, allowing financial institutions to focus on what matters most – their customers, growth and building relationships. Redi has had tremendous success in preventing debit card fraud for banks and credit unions with RediVerify.
Today, Redi announced the continued enhancement of the successful RediVerify platform with advanced analytics, GIS and AI features. Now, with the RediGIS functionality, financial institutions have access to additional information on all 'card present' transactions, allowing a highly accurate identification of the location where a transaction was conducted. A cardholder footprint can be identified to project expected cardholder usage patterns, minimizing false positive cardholder contact events. Rod Fuller, CFO and Partner of Redi, commented, "In addition, RediGIS Mobile provides periodic updates of the mobile device location when location services are enabled. This allows transaction geographic locations to identify instances of cardholder phone and card separation, used to identify high-risk transactions and reduce false positive alerts."
Redi also announced the launch of RediAI, incorporating predictive analytics into its fraud prevention arsenal. Chris Renshaw, CEO of Redi, shares, "With RediAI, institutions can cost-effectively reduce fraud losses, gain efficiencies, and improve the cardholder experience. By detecting suspicious activity with lower false positives, good cardholders are minimally impacted." The RediAI score may be used in conjunction with all other analytics measures, including RediGIS, to refine verification alerts with cardholders.
Redi continually seeks feedback from their bank and credit union clients to prioritize their innovation efforts. Additional innovation ideas are already in process to further enhance RediVerify and other solutions for our customers. Watch a brief video on the new features: https://youtu.be/C8THNdjKYMc.  For additional information on Redi's products and services, visit www.4redi.com.
Source: Redi Enterprise Development
Share:
---
Categories: Commercial Banking, Consumer Banking, Banking, Finance, Insurance
Tags: bank alerts, bank fraud prevention, debit card fraud prevention, fraud alerts, fraud prevention, Redi Enterprise Development
---