Redemption Ridge Opens Safe House for Teen Survivors of Sex Trafficking
'Grace House' Offers Intensive Therapy and Life Skills Training
Press Release
-
updated: May 31, 2017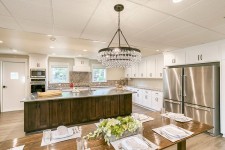 Medford, Oregon, May 31, 2017 (Newswire.com) - June 1st, after two and half years of planning and another one and half years of construction, Redemption Ridge celebrates the opening of the only long-term residential care facility of its kind in Southern Oregon, built specifically around the unique needs of sex-trafficked female survivors from 11 to 17 years. 
The vision of Terry & Ginger Rasmussen and Andy & Becky Joffer, Grace House is a safe haven, offering 3,640 square-feet of indoor living space with seven-bedrooms, four bathrooms, large great room and kitchen area, dedicated class room, comfort room, and therapy room in an undisclosed area of Southern Oregon. It's a place where individuals who have sustained complex trauma receive comprehensive care involving intensive counseling and life skills training in a loving, uplifting and nurturing environment. Thirteen professionally trained, trauma informed staff have been hired and trained to oversee the success of each resident's journey to wellness. The average stay in a residential home for youth who have experienced the complex trauma of sex trafficking is 18 to 24 months. Every detail of Grace House has been designed to represent healing, restoration, and hope. Soothing colors, textures, and art were incorporated throughout the house to offer daily reminders and encouragement. 
According to Terry Rasmussen, Board Chair of Redemption Ridge, every aspect of Grace House was designed to restore dignity and instill hope in those who have been forced and indoctrinated into a lifestyle of sexual exploitation. "We can't change what has happened," Rasmussen says. "But we can provide case-specific services for these young women, which will change their future. Through Grace House and its professional and caring staff, residents begin a personal journey allowing them to discover their own unique purpose, and ultimately, to lead healthy and productive lives."
According to statistics, an estimated 100,000 U.S. youth each year are at risk for falling prey to profiteering sex traffickers. In fact, human trafficking is now the second-fastest growing criminal industry, with minor children accounting for nearly half of its victims. With one in three runaway teens being recruited by these human traffickers within the first 48 hours of being homeless, it's no wonder that in 2013,  the U.S. Attorney for the District of Oregon called sex trafficking "a devastating epidemic that demands action."
Even though sex traffickers have nicknamed the I-5 Corridor as the "Kiddy Track" based on its easy access to buying and selling young sex slaves, resources to help and house rescued young survivors are limited. Currently, less than 500 beds nationwide are available for the long-term care that is required to transition the teens into mainstream living. It is with this in mind, Redemption Ridge took action by gathering support from the community and other local and statewide foundations as they began the development of the Grace House vision.
"We cannot ignore the plight of these sexually exploited young women," says Kathie Kapple, Executive Director of Redemption Ridge. "The truth is, there is no quick fix for this vulnerable population. Grace House is a beautiful, secure, and safe place that allows them to have the time and support they need for healing and restoration."
Grace House sits on an acre of land in a remote location of Southern Oregon. The pre-existing building was taken back to its foundation and completely renovated under the project management expertise of Claudio Alvarez, Founder of Claudio Alvarez Construction and Restoration. With the help of many volunteer subcontractors, the project took two years and more than 1,500 pro-bono hours by Alvarez alone.
"You can't put a price tag on the lives of these survivors," explains Alvarez. "They are priceless human beings whose time has come for restoration. It's time for them to be surrounded by the comforts of a home built for them to heal. That's why quality materials and quality labor were so important to the entire construction team. We all understood that we were part of something bigger than ourselves."
Redemption Ridge provides healing and restoration to female survivors of commercial domestic sex trafficking. The Resource Center provides culturally specific, survivor-centered outreach programs, including individual counseling, group therapy, and family support. Grace House is an extension of Redemption Ridge, providing a therapeutic program in a home setting for young survivors of sexual exploitation. For additional information on Redemption Ridge, go to www.redemptionridge.org   
Press Contact:
Terry Rasmussen, Board Chair
541.890.3150  | email: terry@redemptionridge.org
Source: Redemption Ridge
Share:
---
Categories: Business News, Corporate Social Responsibility, Media and News
Tags: Grace House, Medford Oregon, Redemption Ridge, Sex Trafficking Safe House
---