Red Sneakers for Oakley, Food Allergy Awareness Organization, to Partner With JJ Vulopas and Help Launch His PA Campaign
Press Release
-
updated: Sep 13, 2019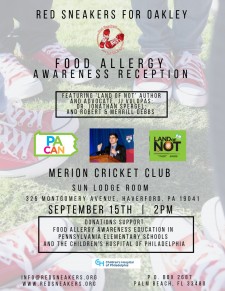 HAVERFORD, Pa., September 13, 2019 (Newswire.com) - Join Red Sneakers for Oakley, JJ Vulopas, and educators from the 1,619 public elementary schools of the great state of Pennsylvania in their efforts to make schools safer for children living with life-threatening food allergies. 
The reception, hosted at the Merion Cricket Club on September 15, will launch the PA CAN Initiative and will feature passed hors d'oeuvres, refreshments and an update on the Food Allergy Awareness movement nationwide. This is the launch of a national campaign to bring food allergy awareness education and a can-do attitude to school-aged children in an effort to save lives. School nurses, guidance counselors, and teachers from the local elementary schools will be in attendance to learn more about the movement and how to better protect their students with food allergies. Dr. Jonathan Spergel of the Children's Hospital of Philadelphia will speak. A portion of proceeds will be donated to CHOP in support of their work in the field of food allergy treatment and care. 
Red Sneakers for Oakley (RSFO) is a nonprofit organization committed to educating and advocating for food allergy awareness nationwide. Oakley was the 11-year-old son of Robert and Merrill Debbs. After the tragic death of Oakley due to a fatal allergic reaction in 2016, the Debbs family founded Red Sneakers for Oakley. Oakley loved his red sneakers and the family realized they could use these sneakers as a powerful symbol for increased education and awareness for allergies. They have since launched a multi-pronged approach to mobilize people to take action through grassroots organizing, digital media campaigns, school-based educational programming, and community events. 
RSFO is committed to its School Days programs, encouraging schools across the country to host educational days to review the schools' current protocols on how to respond to an allergic reaction. Students, faculty and parents must be educated and have a plan of action in place: most doctors recommend that epinephrine be administered within 15 minutes of ingesting an allergen. This does not leave much time to debate. RSFO partners with leading research entities in the field to provide age-appropriate, data-driven information and engaging activities designed to increase young people's understanding of their own food allergies, in addition to educating classmates, teachers, and faculty how to respond in the event of a life-threatening anaphylactic reaction. These days are critical to increase awareness and advocate for greater protection of school children. 
"We are proud to honor JJ Vulopas and the work he has done to promote a positive, Can-Do attitude for kids just like our son Oakley. There is a tremendous need for more awareness education, not only for people who suffer from life-threatening food allergies but also for people who don't," RSFO co-founder, Merrill Debbs explained. "Food allergies can be deadly and need to be taken seriously. We are dedicated to doing everything we can to prevent another family from enduring what we did when we lost Oakley." 
The organization hopes to raise funds to support these day by partnering with the PA CAN initiative. This initiative will bring JJ Vulopas book, Land of Not, and its accompanying 136-page Land of CAN teachers guide and password-protected access to digital, evidence-based School Allergy Resources to 1,619 public elementary schools in Pennsylvania. The Land of CAN material aims to educate students, parents, and educators about food allergies while promoting an empowering CAN-do attitude. With the right support, the Land of CAN initiative can spread across the nation. 
For more information about the Food Allergy Awareness Reception, visit: www.eventbrite.com/foodallergyawarenessreception
For more information about Red Sneakers for Oakley, visit www.redsneakers.org. 
For more information about JJ Vulopas and the Land of Can Initiative, visit www.thelandofcan.com.
Source: Red Sneakers for Oakley
Share:
---
Categories: Non Profit
Tags: anaphylaxis, awareness, Children's Hospital of Philadelphia, epipen, food allergies, food allergy awareness, JJ Vulopas, Land of Can, Main Line PA, Merion Cricket Club, oakley, oakley debbs
---