ReceiptMatch Releases New iPhone App, Your Personal Assistant to Combat Expenses.
ReceiptMatch is the new ridiculously easy way to manage all your personal and business receipts, expenses, bills and rewards.
Press Release
-
updated: Sep 26, 2017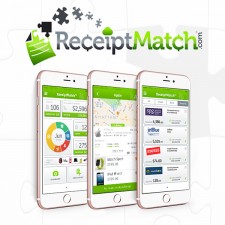 PHILADELPHIA, September 26, 2017 (Newswire.com) - ReceiptMatch — the new and only app that automatically matches receipts to both personal and business credit card transactions by allowing users to sync to over 18,000-plus banks, credit cards and reward accounts — has announced it is currently offering the first 100 new users a free, 14-day trial with a special 15 percent off any Premium Monthly subscription for the first year (Promo Code: RM100). The offer expires Oct. 24, 2017.
Once receipts are scanned or forwarded into ReceiptMatch, the ReceiptBot technology captures all the details including vendor name, date, purchased items, location, pricing, taxes and more. Data is scanned through OCR and Human Verification with accuracy and precision. Whether it's a paper or emailed transaction, ReceiptMatch brings to life a brand new receipt with usable, digital information like their one-click access to return policies and store hours. 
Users benefit from these features by being able to have their spending auto reconciled in real-time, saving them countless painstaking hours each month as well as to ensure there are no fraudulent charges and every transaction is valid, which usually go unnoticed by individuals and companies. In addition, users are able to better track all purchases and returns by having them matched to bank transactions, allowing more efficient money management.  
ReceiptMatch is ideal for contractors, real estate agents, business owners, household managers and anyone trying to stay on top of their finances. "We see a real opportunity to save both individuals and small businesses time and money by making daily expense management tasks less tedious and more simplified," says Founder & CEO Chad Batterman. 
Batterman goes on to say, "No one else in our space is solving the true problems that exist with expense management, which is why we built ReceiptMatch and have continued to expand our services."
The ReceiptMatch organizational system provides users one centralized location, allowing them to not only easily manage receipts, expenses, bills and rewards, but also gives users the ability to view their spending habits, account balances, bill reminders, create expense reports and track reimbursements. 
With ReceiptMatch, never miss another expense, lose a receipt, pay a late fee or forget about reward points. For Teams and Families, ReceiptMatch offers a suite of collaboration tools to communicate effectively with other users within ReceiptMatch to get more done. These features include in-app messaging, sharing receipts, folders and accounts between users, and inviting collaborators to view and add on to expenses, all from within the app. ReceiptMatch is clearly the smarter and more organized workflow solution to combat expenses.
About Us
ReceiptMatch is the leading provider of expense management software for consumers and businesses; the best solution for organizing and managing receipts, expenses, bills and rewards. ReceiptMatch provides the tools necessary for the consumer and business looking to streamline their expenses with a simple and trusted way to organize purchases and spending. Equipped to securely handle both household money management needs, as well as small businesses needing assistance with workflow management, ReceiptMatch is the all-in-one breakthrough organizational system.
Media Contact:
Chad Batterman
Founder & CEO
Email: chad@receiptmatch.com
www.ReceiptMatch.com
Source: ReceiptMatch
Share:
---
Categories: Finance, Computer Software, Productivity Applications
Tags: Accounting, Amex, Bills, Budget, Digital Receipts, Expense Reports, Finance, Receipt App, Rewards, Spend Manager, Taxes, Travel
---