Rebecca Lily Pro Set IV for Lightroom 5/6/CC and ACR 8/9 Released
Professional color grading products for easy, effective editing of fine art, wedding, landscape, portrait, editorial & fashion photography
Press Release
-
Oct 27, 2016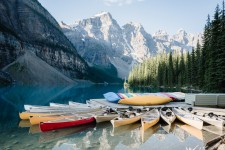 Portland, ME, October 27, 2016 (Newswire.com) - Rebecca Lily Pro Set IV, designed for both professional and enthusiast photographers who shoot digital or a mix of film and digital, provides a new palette of color and black & white renditions with more emphasis on subtlety and fine-tuned control. It includes a diverse pastel collection inspired by pro lab scanned film, soft desert hues, vintage tones, presets for indoor use and a wide range of black & whites.
Each preset contains 3 - 5 versions that gives maximum control over dosage, from mildest to a more bold effect. This allows for the quickest possible edit and reduces the need for tweaking, saving time in the photographer's workflow. It also enables a cohesive look to be applied to a session with changing light.
Every product has been crafted for optimal skin tone and luminosity, minimizing the need for retouch, and incorporates film characteristics like maximal highlight and shadow detail, natural and aesthetic colors, enhanced light and balanced contrast and clarity. A tool kit is also included for quick finishing touches with custom toning, sharpening, grain and more.
"Rebecca Lily presets are the best I've used. They add just the right amount of punch to an image's colors and contrast while maintaining gorgeous looking skin tones," said Chris Ozer, a lifestyle photographer and filmmaker based in Brooklyn, NY who has shot for brands like Apple, Nike and Mercedes-Benz.
"I love Rebecca's presets. Soft, film inspired tones that perfectly replicate the look of a printed page on my screen," said Finn Beales, an award-winning Wales photographer who has shot for Cereal Magazine and commercial commissions for Land Rover and Barbour. "Beautiful colors, and just the right amount of texture and grain."
Rebecca Lily Pro Set IV is available for $119 and contains 167 presets: 93 color, 34 black & white, and 40 tools. This product can be applied to both RAW and JPG files and has been designed and extensively tested on all camera models including Canon, Nikon, Leica, Fuji, Sony, Hasselblad and Phase One. Both Lightroom and ACR versions are included with every set.
Source: Rebecca Lily
---
Categories: Photography, Computers and Software, Commercial Art
Tags: Adobe Camera Raw, color grading, Lightroom, photography, Photoshop, post processing, presets
---