Realtor Joseph Lewkowicz Receives Rave Reviews for His North Tampa Real Estate Industry Expertise
Coldwell Banker agent, Joseph Lewkowicz, is highly acclaimed across Tampa Bay's real estate market. Watch as his North Tampa real estate industry expertise receives rave reviews from The Tampa Bay Times and makes the Top Ten Real Estate Agents List in Tampa Bay.
Press Release
-
updated: Dec 1, 2017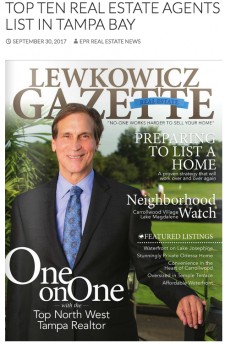 TAMPA, Fla., December 1, 2017 (Newswire.com) - Joseph Lewkowicz has been watching the Tampa Bay Real Estate market for over four decades and has watched the area grow into a great investment opportunity. Now, his expertise in the industry can help future homeowners get the best deal in the North Tampa area.
Joseph Lewkowicz is renowned in the North Tampa Real Estate market and his personal sales record makes it hard for other realtors to compete with. Now, North Tampa Realtor, Joseph Lewkowicz, is using his 40 years of experience to reach people from all over Tampa Bay, as he provides expert advice on buying and selling homes at affordable prices and breath-taking locations.
As one would expect from someone with over four decades of experience in the industry, Joseph Lewkowicz's services benefit clients of any type, whether they are first-time buyers, those looking to sell, or those looking to invest in property.
All of Joe's sales have received rave reviews from clients, but one news article, in particular, has caught the attention of realtors all around Tampa Bay. The Tampa Bay Times article talks about the most sought-after neighborhoods in Tampa Bay and here's what Joe had to say about it:
In zip code 33624, "Northdale is affordable square footage for the money,'' says Joe Lewkowicz, a veteran Coldwell Banker agent. "Plus, they've got the YMCA, which a lot of people use, the golf course, a great school right there (Gaither High), and it's close to downtown.''
Lewkowicz is negotiating an offer on a 2,400-square-foot home with a new kitchen and golf-course view, listed at $325,000. "In a lot of other areas you cannot get that for that kind of money,'' he says.
Aside from the news article, Joe has been named number one on the List of Top Ten Real Estate Agents in Tampa Bay. He is nationally ranked in the top 1 percent of Coldwell Banker real estate agents, an achievement that has opened many doors to exclusive events and awards in 2016. His personal mantra: "No-one works harder to sell your home!" has proven to work successfully throughout his career and has connected him with over thousands of buyers.
Joe has helped sell over 3,000 homes that perfectly fit his client's needs, but he is happy to assist anyone in the Tampa Bay area looking to buy or sell.
To read more about Joseph Lewkowicz and his expertise, visit his official website at http://josephlewkowicz.com.
For media or press inquiries, please contact media relations liaison Dana Blickensderfer at Info@iBossAdv.com.
About Joe Lewkowicz
With over 40-plus years of experience, Joe has proven himself to be a prominent figure in the Tampa Bay Real Estate market. Selling thousands of homes throughout his career, Joe is known for his exceptional customer service, attention to detail, market-savviness, and calculated decisions. Search for North Tampa, Florida homes for sale on the most up-to-date Real Estate MLS in Mid-Florida at http://josephlewkowicz.com.
"No-One Works Harder To Sell Your Home!" For more information visit: http://josephlewkowicz.com
Source: Joseph Lewkowicz Marketing Team
Share:
---
Categories: Real Estate, Lifestyles, Real Estate Investments
Tags: COLDWELL-BANKER, JOE-LEWKOWICZ, JOSEPH-LEWKOWICZ, NO-ONE-WORKS-HARDER-TO-SELL-YOUR-HOME, NORTH-TAMPA-NEIGHBORHOODS, NORTH-TAMPA-REAL-ESTATE, REAL-ESTATE-MARKET, REAL-ESTATE-NEWS, REAL-ESTATE-REVIEWS, TAMPA-BAY-TIMES
---