REALSearch.com Warns There Are Only Days Left Until the 1099 Filing Deadline
Press Release
•
updated: Jan 18, 2019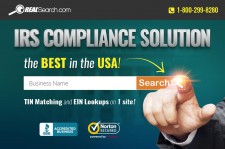 SAN JUAN, Puerto Rico, January 18, 2019 (Newswire.com) - Federal Tax ID Numbers, or Employer Identification Numbers, are required on all Business Tax Forms such as 1099s, W-9, & various Tax Reports by Jan 31st, 2019 (Source: IRS.gov)
And, with the deadline approaching, businesses only have days left to ensure that information is accurate and complete - matching what the IRS has on file - in order avoid 1099 penalties. Each mistake can cost up to $260, leading to some pretty big fines.
"It doesn't have to be that way," said Robin Lahiri, founder of REALSearch.com. When asked how businesses can avoid such fines, Mr. Lahiri said, "Simply search the massive private national FEDERAL TAX ID NUMBER database run by www.RealSearch.Com which offers subscription based EIN Lookups and IRS TIN Matching along with a simple Free Trial."
REALsearch.com gives businesses an easy direct way to verify any TIN/EIN in real time with the IRS. The EIN Lookup Database on Realsearch.com allows users to find & view over 24 million of the nation's largest Employer Identification Numbers so anyone can look up any missing number they have. "No more wrong filings and no worrying about being fined," Mr. Lahiri added.
REALSearch.com offers direct API access to the IRS validation system to look up correct Tax IDs, as well as complete background reports, business credit reports, and so much more. "REALSearch.com is the premier solution to help users avoid fines and have more confidence in their business data," said Mr. Lahiri.
"To find Tax ID numbers in batch, simply email the REALSearch.com IT Team a spreadsheet of vendors, contractors or employees (robin@realsearch.com) for bulk 48-72 hours verification of EIN or SSN Verification." Mr. Lahiri also mentioned that REALSearch.com can append EIN numbers as well.
RealSearch.com, the leader in TAX ID Numbers, serves over 265,000 members, providing Verification & KYC / OFAC Compliance solutions such as SSN & EIN Number verification, full background Reports, Criminal searches in 48 states and XML access to over 70 databases. Complete instant Background & Criminal Reports are provided as well as Criminal Records, Public Records & Mugshots.
ABOUT LIBERTY Data & REALSearch: Liberty Data is the parent corporation over Realsearch.Com & Feinsearch.com, and is a minority owned ID Verification, Compliance Data Technology business with over 23 Terabytes of Consumer and Business data searchable online, in bulk or via XML Feeds. Over 70 databases are available to business for risk management, employee screening vendor verification & fraud prevention.
Contact: Robin C. Lahiri, COO at 888-996-6253 or email robin@realsearch.com. REAL Search.Com – developed by LIBERTY is the nation's largest ID VERIFICATION & TAX ID Database and is developed and powered by RealSearch.Com
Call: 800-299-8280
Media Contact Name: Robin C. Lahiri
Media E-mail: robin@realsearch.com
Media Phone: 888-996-6253
Media Web Address: www.RealSearch.com
Source: Realsearch.com
Related Media
Tags
Additional Links