Real-World Experts in Performing Under Pressure, the Real Donnie Brasco and Jonathan Alpeyrie, Bring Their Joint Presentation to Organizations Nationwide
Best Selling Author and Former FBI Undercover Special Agent Joe Pistone (AKA Donnie Brasco) and Author, War Photographer, and Syrian Hostage Survivor Alpeyrie Are Available for Speaking Engagements
Press Release
-
updated: Feb 24, 2020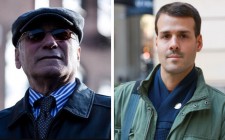 NEW YORK, February 13, 2020 (Newswire.com) - Global Security Resolutions LLC (GSR) is pleased to announce the immediate availability of retired undercover FBI Special Agent Joe Pistone and Syrian hostage survivor Jonathan Alpeyrie for joint speaking engagements.
A video trailer is now live on www.focusunderpressure.com, highlighting the harrowing experiences of both authors, the foundation of which their joint presentation, "Focus Under Pressure,"  is based.
"Joe's unique form of storytelling, authenticity, and powerful firsthand insights captivates and inspires audiences," states GSR co-founder & CEO Thomas G. Donlon. Pistone spent more than six years undercover posing as mobster 'Donnie Brasco' while successfully infiltrating the Mafia. His unprecedented work earned him the FBI Medal of Valor. The adaptation of his NY Times bestseller, "Donnie Brasco: My Undercover Life in the Mafia," into a blockbuster Hollywood movie made him an internationally recognized authority in performing under pressure.
Joining Pistone is famed war photographer Jonathan Alpeyrie, author of, "The Shattered Lens." The book details his kidnapping, the 81 days spent in the captivity of Syrian rebels, and his eventual freedom. Alpeyrie expertly relates the skills he used to survive to overcoming adversity in business. "I was quite taken with Jonathan's story and will be making a documentary and a film about his life and experiences," states Hollywood Producer and Casting Director Bonnie Timmermann. 
GSR (globalsecurityresolutions.com) is a security and consulting firm based in NYC, providing services worldwide, including speaking, investigative, security, leadership, and training solutions. Donlon retired and last served as the FBI's Section Chief of the National Threat Center Section. He was also Director of the Office of Homeland Security for the State of New York.  
###
For more information on this topic, call Thomas G. Donlon at (646) 397-2068, or email tdonlon@globalsecurityresolutions.com.
Source: Global Security Resolutions
Share:
---
Categories: Business
Tags: brasco, donniebrasco, fbi, focusunderpressure, joepistone, jonathanalpeyrie, mafia, speaking, speakingengagements, syrian
---