Real Detective Seeks to Become Official Custodian of TV Detective's Sweet Ride
Lifelong obsessed fan of 1970s detective show, The Rockford Files, is fighting to win one of the show's few remaining screen-used Firebirds, once owned by James Garner.
Press Release
-
updated: Jan 16, 2019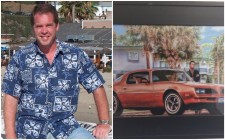 TORONTO, January 16, 2019 (Newswire.com) - As a teenager, David Gibb sat glued to his TV set each week watching The Rockford Files, which is often heralded as one of the best detective shows ever produced. "At the time I had no idea just how much the show would end up influencing my entire life path," says Gibb.
Fast forward to present day. Gibb is now celebrating his 33rd year as a private investigator, having found over 5,500 missing people, working deep undercover in religious cults and satanic organizations, exposing thieves and con men, and, yes, even catching cheating spouses. His career, and life, has largely mirrored that of his idol – some intentionally and some just pure fate. A soft heart has led Gibb to work pro bono on many cases, just like his TV idol, James Rockford, who lived in a rusty trailer. That's one reason Gibb now has to reach out with his own emergency call for some assistance.
This coming Saturday (January 19), one of the remaining few Pontiac Firebirds used on the classic TV show that inspired Gibb, and once owned by his idol, James Garner (who played Rockford), is hitting the auction block at Barrett Jackson. But expectations are high, with some expecting it to fetch upwards of $100,000. Although out of his price range, Gibb is afraid that the car could fall into the wrong hands. "I would hate to see the 'Holy Grail' of The Rockford Files disappear into some rich collector's garage, someone who isn't able to appreciate the unique and special history of this car," explains Gibb. "The car deserves to go to someone with mad appreciation for the car, the character, the show, and everything they all represent. Someone who will share its glory with the entire fan base community. Not just another greedy collector."
It was with this car, after all, that Garner perfected what is now known in stunt circles as the Rockford J-turn – a sudden reversal of driving direction. Gibb himself has aced this maneuver at stunt driving school, and relishes the chance to try it with the car that started it all. He yearns to travel with the car and share it with the fan base, rather than relegate it to a private showroom.
Gibb has also met with many of the actors from the series over the years. A published true crime writer, he began writing a book about how his life and career had mimicked that of Jim Rockford. He was able to track down and interview such cast members as Gretchen Corbett (Beth Davenport, Rockford's lawyer), Stuart Margolin (Rockford's ex-con friend and nemesis), Joe Santos (Sgt. Dennis Becker), Ned Beatty (Rockford's former army buddy), and Lindsay Wagner (Sara Butler, one of Rockford's many love interests).
During his meetings with the Rockford celebs, Gibb asked them to autograph a tan-colored glovebox door from a 1978 Firebird, in hopes that one day he would own one himself. This original Rockford Files car would be the perfect home for this piece!
Joe Santos was even kind enough to drive out to meet Gibb for lunch at the Paradise Cove Beach Café (formerly known as The Sandcastle on the series), right next to the spot that Rockford parked his trailer 40 years ago. Gibb even seized the opportunity to recreate one of Garner's famous poses on the pier, before heading over to pay his respects at the gravesite of Noah Beery Jr., Rockford's TV dad.
"That trip back in 2008 was like a homecoming to me, even though it was the first and only time I've ever stepped foot into Paradise Cove," said Gibb. "I just hope it won't be my last."
These days, Gibb's investigation office contains many tributes to the series that inspired his career path. He has a 1974-era Ansaphone answering machine – the same model used by Rockford. He also maintains a collection of weird voice mail messages (including a personal message from Stuart Margolin), which sound oddly like the montage of crazy messages played at the beginning of each episode. Meanwhile, a portrait of Rockford posed in front of the famous Firebird, adorns the wall beside his desk, surrounded by other framed pictures of Paradise Cove.
After learning of the upcoming Firebird auction, a friend of Gibb's suggested that he run a GoFundMe campaign – to keep the car from ending up in the hands of "the bad guys". Although initially hesitant, in true P.I. fashion, Gibb decided to give it a shot in the dark. "If women can score $15,000 for breast implants, and some guy can raise five figures to bake a pecan pie, why should I be shy to ask for help to save one of TV's most classic cars?" shrugs Gibb.
Gibb pledges that if not enough funds are raised to purchase the vehicle he will return all donations. If more than the auction price is raised, he will put the remainder towards restoring the car to its Rockford Files splendor. "Sadly, I've been told that the lady who owned this vehicle from 1982-1989 after winning it in a giveaway, didn't appreciate its history and had it repainted and reupholstered," says Gibb. "I want to make sure it's just the way it was back when James Garner was behind the wheel." Gibb is also offering photos and rides to generous bidders.
"This would be a surreal way for the universe to go full circle," claims Gibb. "To end up retiring from an amazing profession driving the vehicle that belonged to the idol who originally inspired you would be truly serendipitous."
Gibb doesn't shy away from labels people throw at him either. "Some call me a crazed fan. But that's okay, because I am. Most just call me crazy, and that's okay too. I proudly own and wear both of those hats."
To contribute to Gibb's, "Rockford Files Firebird for Real-Life Private Eye" GoFundMe campaign, please visit:
https://www.gofundme.com/rockford-files-firebird-for-reallife-private-eye
Contact Person: David Gibb (available for interviews)
Company: Providence Investigations Ltd.
City: Toronto
Province: Ontario
Country: Canada
Phone: 416-579-3694
Email: david@providenceinvestigations.com
Website: www.providenceinvestigations.com
Twitter: @ltd_providence
Source: Providence Investigations Ltd.
Share:
---
Categories: Lifestyles
Tags: Barrett Jackson, James Rockford, Pontiac Firebird, The Rockford File, TV detective
---