Reach Integrates American Heart Association Digital Science
Press Release
•
Dec 6, 2021
CarePlans from the American Heart Association aim to help improve health outcomes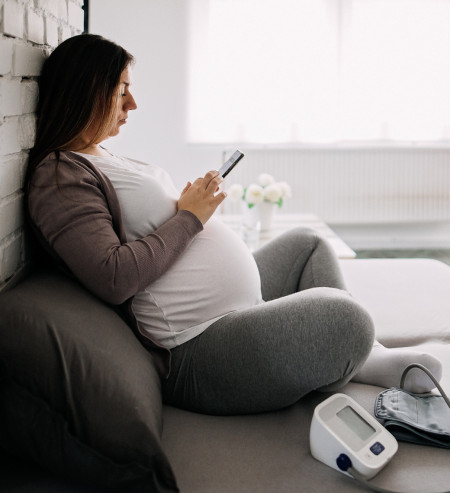 SAN DIEGO, December 6, 2021 (Newswire.com) - Every year in the U.S., nearly 700 women die as a result of pregnancy or delivery complications.[1] To help support healthier pregnancy outcomes, Reach has developed the Happy Mama platform, a remote patient monitoring system that includes a patient-facing app, a maternal health care professional decision support tool and a kit that includes biometric devices for collecting health data. The Happy Mama platform is also incorporating the American Heart Association's science-based health education, called CarePlans, into the app.
The American Heart Association has identified seven common risk factors, known as Life's Simple 7® that people can monitor to strive for ideal cardiovascular health: smoking status, physical activity, weight, diet, blood glucose, cholesterol, and blood pressure. The Association's CarePlans present actions people can take to work toward improving these factors and are designed so that any person can work toward improved health. The actions are typically not expensive or difficult and even modest improvements to these factors can make a big difference.
"Every person deserves the opportunity for a full and healthy life. The Association's science-based CarePlans leverage best-in-class science from the American Heart Association, with the aim of improving health education and health engagement," said Eric Peterson, M.D., M.P.H., Vice Provost and Senior Associate Dean for Clinical Research at University of Texas Southwestern and volunteer chair of the American Heart Association Center for Health Technology Advisory Group.
Reach has joined the American Heart Association Center for Health Technology and Innovation Innovators' Network, which is focused on building and fostering health technology relationships to develop innovative and scalable solutions.
"Our goal is to provide digital solutions that combine ease-of-use with reliable science-based education," said Fran Ayalasomayajula, President of Reach. "Membership in the Innovators' Network provides opportunities to connect with others innovating in the health tech space as we pursue our mission of helping women and maternal health care professionals work together toward healthier pregnancies, deliveries, and postpartum self-care."
When combined with clinical support, self-care and healthy living can improve overall health.[2] According to the American Heart Association, there is evidence that the awareness and treatment of risk factors in pregnancy, such as hypertension and diabetes, result in positive health outcomes.[3] Telehealth can play a role in helping pregnant women take steps toward having healthier pregnancies.
###
About Reach
Established in 2016, REACH is a 501(c)(3) global social impact organization focused on improving the healthcare experience of both patients and providers. Maternal mortality and morbidity prevention are top priority areas for Reach. Reach is the founder of the National Save Moms Campaign (http://savemoms.us), Save Moms Global (http://savemoms.global), Maternal Application of Technology for Community Health (MATCH) Coalition (http://matchcoalition.us), and Happy Mama (http://happymama.global).
MEDIA CONTACT:
Matt Walker, info@reachtl.org
Source: Reach