Reach Healthcare Welcomes Sri Preethaji, EKAM to Happy Mama Expo Oct. 22
Press Release
•
Oct 13, 2022
The biggest maternity show of 2022 is Saturday, Oct. 22. The expo is online and free. Get your ticket today! More info at http://happymama.global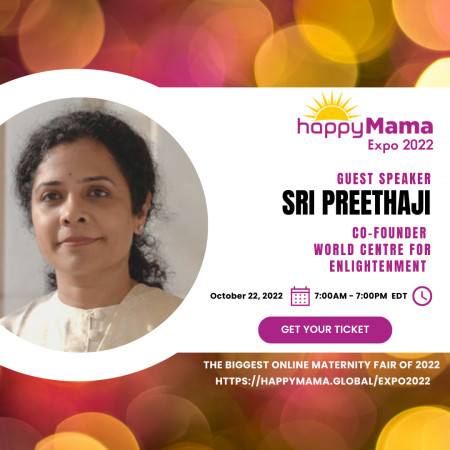 SAN DIEGO, October 13, 2022 (Newswire.com) - On Oct. 22, Sri Preethaji co-author of the best-selling book The Four Sacred Secrets, an inner journey for any seeker of emotional and personal transformation and peace, will present on the power of intention and love for better reproductive, maternal, and infant health and parenting.
Sri Preethaji, along with her husband Sri Krishnaji, is the founder of the World Centre for Enlightenment and the EKAM thought movement. She has dedicated her life to helping others find the healing, joy, relationships, and purpose they are seeking.
"Birthing an awakened child is the greatest gift you could give yourself, your family, and the earth," suggests Sri Preethaji in describing the benefits of mindfulness and meditation as part of preconception and perinatal care.
Happy Mama Expo supports the needs of expecting and new families along their journey to parenthood and helps draw awareness to preventable pregnancy-related complications. The program is holistic and touches on a variety of pre and post-natal topics including maternal mental health and wellbeing, heart health, nutrition, career management, and more. Subject matter experts will share insights and offer guidance on issues ranging from fertility to postpartum support.
Sessions on meditation and mindfulness will also be featured at the event. Studies suggest that meditation can be beneficial during pregnancy and can help reduce anxiety and stress, especially during childbirth. Doctors and researchers have linked stress and anxiety during pregnancy to preterm births and low birth weights.
A common saying is "calm mama, calm baby." Neuroscientific research shows that stress directly affects your child's health, mood, and behavior.
The Happy Mama Expo is Saturday, Oct. 22, from 7:00 a.m. to 7:00 p.m. EST.
Tickets on available now at http://bit.ly/happymamaexpo2022
LINKS:
Happy Mama Expo Tickets http://bit.ly/happymamaexpo2022
Happy Mama Website https://happymama.global
Happy Mama Disaster Relief Program https://happymama.global/disaster-relief-program
#happymama
ABOUT REACH
Reach is a 501c3 global social impact organization focused on improving the healthcare experience of both patients and providers. Maternal mortality and morbidity prevention is a top priority area for the organization. Reach is the founder of the National Save Moms Campaign (http://savemoms.us), Save Moms Global (http://savemoms.global), Maternal Application of Technology for Community Health (MATCH) Coalition (http://matchcoalition.us), and Happy Mama (http://happymama.global) - Winner of the CES 2022 Tech Innovation Award.
Source: Reach Healthcare
Related Media