RCU (Responsible Cannabis Use) launches canniknow.com, with a mission to make cannabis education more accessible
Press Release
•
updated: Apr 20, 2020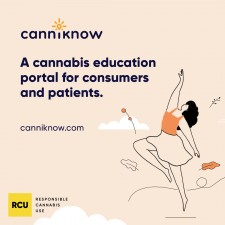 TORONTO, April 20, 2020 (Newswire.com) - RCU (Responsible Cannabis Use) is proud to launch Cann I Know, a cannabis education portal that rewards cannabis knowledge. This is an evolution of RCU's 2019 website, DontBeSorry.ca which engaged over 58,000 Canadians with educational content in just a few months.
In 2020, Cann I Know will engage thousands of consumers and patients across Canada and the U.S. with regional cannabis information. Participants will be rewarded with products and offers from organizations supporting cannabis literacy.
Cannabis literacy has never been more critical
While many support cannabis, most don't know the laws or their rights in their own city, state, province, or county. Cann I Know brings all factual information together so medical patients and recreational consumers can learn regional laws and support the legal industry in their communities.
Education about safe access to cannabis during COVID-19 is a priority
The first educational campaign by Cann I Know will inform visitors about safe access to cannabis in their region during COVID-19. This will also help educate millions of Canadians who are currently buying from the illegal market, and putting themselves and others at risk.
This information is critical for two reasons:
​It will help direct consumers to safer options provided by the legal market
​It will provide solutions that help flatten the curve
Cann I Know will offer information about safe access for each region starting with the Canadian provinces and territories and legalized regions across the United States. This is critical as governments are changing their laws to accommodate safer access during the pandemic. For instance, Ontario is now offering click and collect, curbside pickup, and delivery options. None of these methods were available prior to COVID-19.
Ongoing monitoring of cannabis literacy and awareness
Cann I Know is not only the source for regional cannabis information, but it is also an insight tool that assesses the general state of cannabis knowledge. This will not only help identify knowledge gaps and opportunities for further education in legalized regions, but it will also serve as a resource for new regions that are assessing legalization.
Cann I Know challenges and educates cannabis consumers in each region with monthly quizzes. Users can engage in these short educational quizzes, and learn about the legal cannabis industry and its laws, products, brands, and other information that empowers responsible cannabis use.
"Canniknow.com is a trusted cannabis resource for consumers and patients across the world. Our goal is to make cannabis education accessible, one region at a time," said RCU COO, Karina Karassev.
About RCU - Responsible Cannabis Use
RCU (Responsible Cannabis Use) is a cannabis education company that brings awareness to cannabis facts, laws, regulations, and research. With its products, RCU educates consumers, employees, and communities about responsible cannabis use.
To learn more visit thercu.org, follow RCU on Twitter, Facebook and Instagram.
For Media or Partnership Enquiries:
Afshin Mousavian, RCU
press@thercu.org
T: 416-879-2873
Source: RCU (Responsible Cannabis Use)