Raven Rock Entertainment and City of Jenkins Enter Partnership
Destination Resort Planned for Southeastern Kentucky
Press Release
-
updated: Aug 8, 2017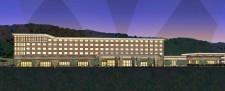 Jenkins, Kentucky, August 8, 2017 (Newswire.com) - ​​​Raven Rock Entertainment, LLC (Raven Rock) is pleased to announce a strategic partnership with the City of Jenkins, Kentucky for the pursuit of a Destination Resort and Gaming Operation along the Kentucky/Virginia state line.
The City of Jenkins has engaged Raven Rock to develop concepts and analysis to support the development of this resort in conjunction with regional tourism goals.   Jenkins is a strategic border community in Southeastern Kentucky and represents an excellent opportunity to showcase the region's natural beauty and tourism potential.  
The development is proposed to be located on the historic Raven Rock Point, overlooking Jenkins and Letcher County.   Raven Rock Point is a well-recognized landmark in the region and is a part of the larger Pine Mountain range extending throughout this portion of Kentucky.  The facility is proposed to include an adventure park and hotel in addition to a full-scale casino gaming operation.
Raven Rock will also develop and support strategic planning and communications to work with the Kentucky state legislature and Governor's office to effect the necessary changes in Kentucky gaming laws to allow commercial gaming operations.   "We clearly understand the regulatory and legal hurdles that will be required to complete this resort project as anticipated.   However, we feel that this is the right time and the right place" states Raven Rock partner, James Hibbitts.   Hibbitts is a native of the Jenkins community and has long recognized the need for expanded jobs and industry for Letcher County.
This decision is a milestone in the City of Jenkins plan to revitalize their economy and create jobs.  In a recent interview with EKB News out of Pikeville, Kentucky, Jenkins Mayor Todd Depriest stated "We've got an opportunity to do something that will make a difference from now on" indicating that this facility will "put people to work and anchor tourism." The Federal Bureau of Labor Statistics currently reports an unemployment rate of 10.1% for Letcher County – one of the highest in the State of Kentucky.   The proposed resort could employ up to 900 people in full-time, permanent jobs.
Raven Rock Entertainment is a Kentucky based corporation comprised of individuals with a proud Kentucky heritage and a civic sense of duty to improve this challenging corner of Appalachia.  
"We are pleased to enter into this partnership with the City of Jenkins" states Erik Sneed, former casino executive, and developer and Raven Rock, partner.  "Our goal and vision are to demonstrate how an innovative municipality can successfully work with a private entity to create an enterprise that is mutually beneficial" he continues.   "Raven Rock wants to lead the charge in establishing a new outlook on how commercial gaming can be successfully deployed in Kentucky."   Sneed is referring to Raven Rock's plan to advocate for Public-Private Partnerships as a means to successfully regulate and locate gaming facilities throughout the State of Kentucky.   Previous Kentucky gaming legislation has focused on expanded gaming at existing racetracks and limited commercial licenses with a high cost of entry.   "We believe that the best solution for expanded gaming in Kentucky is to allow a limited number of border based casinos that are developed in partnership with strategic municipalities that demonstrate the greatest need" states Sneed.
Kentucky is nationally recognized for its innovative Public-Private Partnership legislation – spearheaded by former Pike County based representative Leslie Combs.  Raven Rock's current agreement with Jenkins anticipates a future transition to a fully qualified Public-Private partnership with the City.
Raven Rock will be participating in the regional SOAR Conference on August 4, 2017, in Pikeville Kentucky.   Their table and presentation will focus on their legislative efforts, and communicating the reality of successful gaming operations in rural Appalachia.
For more information on this project: ​
​Raven Rock Entertainment, LLC may be contacted by email at james.hibbitts@ravenrockresort.com or through their Kentucky jobs advocacy website at info@ravenrockresort.com.
Source: Raven Rock Entertainment, LLC
---
Categories: Gambling, Resorts, Casinos
Tags: Casino, City of Jenkins, Eastern Kentucky Tourism, Gaming, Kentucky Jobs, Raven Rock Entertainment, Raven Rock Resort, Resort
---