Rare Historical Images From the 1500s to the 1900s for Sale; Collection Rivals the Original Getty Collection
Press Release
-
updated: Jun 26, 2018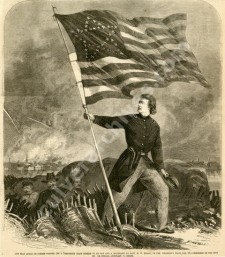 KANSAS CITY, Mo., June 26, 2018 (Newswire.com) - Artifact Brokerage Firm LLC announces it is representing the owner of the D. Jay Culver collection in the sale of the historical archives. Purchased in 2006 from the Culver family, the current owner understands the monetary value and impact of the cultural find to museums, historians, institutions and investors, but he is ready to pass his treasure trove on because of his advancing age. 
"This is a rare opportunity to be immediately competitive with the top image sellers with high-margin, low-cost images," said Michael Simon of Artifact Brokerage Firm LLC. 
"This one-of-a-kind historical collection of photographs, plates, original line drawings, prints, engravings, ephemera and playbills spans the 1500s through the 1990s. 
"Some pieces of historical art in the collection can only be found in national and international libraries and museums, providing an additional financial opportunity to sell to collectors or at auctions. For example, we have more than 600 18th-century original William Hogarth plates, with another collector recently selling a plate in less-than-average condition at auction for $2,700. Your cost for each print would be $5.12."
A top fine art photography appraiser assessed the collection in August at a retail value of $99.2 million. The additional 640,000 vintage, high-definition (300+ dpi) images, which are ready to be turned into an online business, are valued at $64 million, bringing the total collection value to $163.2 million. 
Owing to the collection's massive size of more than 4.5 million pieces, it has been divided into more affordable groupings. 
"We understand 4.5 million pieces is a massive collection, so we have broken it down into nine categories of interest with pricing for each grouping, keeping our dedication to the buyer's need of a substantial return on investment," said Simon.
"We cannot stress enough the historical significance of this collection," he said. "There is artwork from the 1500s through the 1800s that was not produced to last, but has survived into this century." 
The Culver Photos archive contains photographs by world-renowned photographers who captured Americana in all genres from the 1800s to the 1950s and the largest collection of vintage Hollywood and theater photographs, including publicity portraits, set photos and costume drawings.
Historical photos from the Philadelphia Tribune, Commercial Appeal, Baltimore Sun, Morning Call and Chicago Tribune newspapers are also included as categories.
For more information about offered categories, visit www.culverarchives.com or contact 816-728-2103 or michaelsimon@culverarchives.com.
Source: Artifact Brokerage Firm LLC
Share:
---
Categories: Business Development, Photography
Tags: Artifact Brokerage Firm, Culver Archives, D. Jay Culver, Historical Archives, Historical Collection, Historical Photos, LLC
---