Raising Awareness of Highly Dangerous Trend Affecting Dutch Children
Press Release
•
Apr 6, 2016
Citizens Commission on Human Rights volunteers informed parents of the dangers of psychiatric drugs prescribed for so-called Attention Deficit Hyperactivity Disorder (ADHD)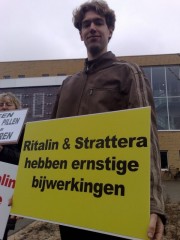 Holland, April 6, 2016 (Newswire.com) - ​Volunteers from the Netherland chapter of Citizens Commission on Human Rights (CCHR) set up a stand in a popular square in the North Holland city of Hilversum to inform parents that their children are at risk of being prescribed dangerous and highly addictive psychiatric drugs.
Any active child could be labeled with Attention Deficit Hyperactivity Disorder, ADHD—a so-called disorder for which there is no physical test. Once "diagnosed" the child is drugged with dangerous stimulants that are classified in the same category as highly addictive substances such as cocaine, morphine and opium. These drugs have been the subject of 44 warnings by eight governments for side effects including heart problems, mania, psychosis, depression, hallucinations and death.
Last year, Citizens Commission on Human Rights Holland submitted to the United Nations Committee on the Rights of the Child, UNCRC, a report they compiled on the drugging of children for ADHD in their country. The UNCRC rapporteur asked pointed questions of the Netherlands government on the drugging of Dutch children with these substances and issued a statement expressing "seriously concern" (the highest level of disapproval expressed in official UN statements) over the rising use of psychoactive substances on children in the Netherlands. They called for an investigation into non-medical treatments that don't require the use of dangerous psychostimulants to address the symptoms of these so-called disorders.
CCHR believes parents have the right and responsibility to know these facts.
Citizens Commission on Human Rights (CCHR) is a nonprofit charitable mental health watchdog group co-founded in 1969 by the Church of Scientology and professor of psychiatry emeritus, the late Dr. Thomas Szasz. It is dedicated to eradicating psychiatric abuses and ensuring patient protection. As part of their religious Code, Scientologists pledge "to expose and help abolish any and all physically damaging practices in the field of mental health," and thereby bring about an atmosphere of safety and security to mental healing.
Related Media