Rainforest Cruises Announces New River Cruises in Myanmar (Burma)
Press Release
•
updated: Mar 1, 2017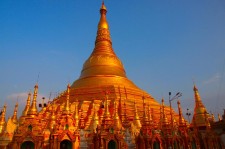 Miami, Fl , March 1, 2017 (Newswire.com) - Rainforest Cruises, a premier provider of exotic river cruise travel packages, is pleased to announce new Irrawaddy River cruise itineraries in the Southeast Asian country of Myanmar (Burma). A river cruise in Myanmar is the ideal way to tour this emerging destination, as you can cover vast distances and visit numerous locations in comfort aboard your riverboat. Cruising in Myanmar, a country still developing its tourism infrastructure, allows for close look at life on the river as it was centuries ago, with the unspoiled beauty of ancient temples, surrounding landscape, and local people.
When booking an Irrawaddy River cruise with Rainforest Cruises in Myanmar, travelers can visit such places as a royal palace; silk, gold, and lacquer-ware workshops; ancient archaeological sites; gilded pagodas; massive ancient temple complexes; small river villages; Buddhist monasteries; old British Colonial towns; and many other wondrous sites. Currently, Rainforest Cruises is offering 6, 7, 8, 10 and 11 day journeys in Myanmar (Burma) on four unique, hand-built vessels, specifically designed to navigate the Irrawaddy and Chindwin Rivers.
"I can truly say that my experiences in Myanmar have forever changed my life,"

Joshua Youngerman , Rainforest Cruises Destination Expert
"I can truly say that my experiences in Myanmar have forever changed my life," says Joshua Youngerman, Rainforest Cruises destination expert and former cruise director of the Irrawaddy Explorer river vessel. "The warmth and hospitality shown by the guides, the ship crew, and especially the local people, have made an impression that will last forever."
Of all the ships Rainforest Cruises offers in Myanmar, the obvious standout would be the Irrawaddy Explorer Cruise. This elegant ship is a luxurious example of expedition river cruising. Boasting 28 sumptuous cabins, a beautiful art nouveau stairway, old-style decor, gleaming hardwood floors, sun deck, spa and writers lounge, this classic ship transports guests to the timeless elegance of the colonial period.
Myanmar (Burma) has a tropical monsoon climate with three distinct seasons: cool, hot, and rainy. More information about the best time for a Myanmar river cruise, and how to prepare for Myanmar tours in general, can be found in this free Myanmar Travel Guide.
About Rainforest Cruises: Since 2011, Rainforest Cruises has grown to become a leading expedition cruise specialist in the Amazon and Galapagos. Our dedicated team has been successfully building magical memories for our clients throughout South America, and is excited to begin offering unique, comfortable, and enchanting trips to Myanmar.
Contact:
Pats Illich
​www.rainforestcruises.com
+1 888 215 3555
cruise@rainforestcruises.com
Source: Rainforest Cruises
Related Media