Rachel Derstine Designs Announces Release of New Summer Collection
Press Release
•
May 10, 2016
Well known for breathtaking award winning art quilts, Rachel Derstine has expanded her line to include table runners and bags in new spring colors coordinating with this year's trends.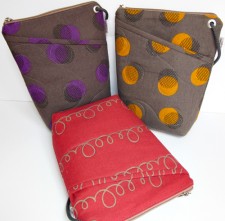 Schwenksville, PA, May 10, 2016 (Newswire.com) - Rachel Derstine, fiber artist, of Rachel Derstine Designs, is pleased to announce the release of her new summer line of table runners and bags.
Rachel Derstine is well known for her vibrant award winning art quilts which are sold at high end juried art and craft shows throughout the country. Her signature style draws from the use of many globally sourced fabrics. She collects hand dyed cottons, silks and woven ikat fabrics made by artisans from fair trade sources in Malaysia, Thailand, Vietnam, and Laos, as well as commercial cotton and linen from Japan and the US.
The new release of her summer collection brings these many global fabrics into her table runners and bags. The marbled line of table runners features fabrics made by artisans in Malaysia. The source company gives back to the community through support of disadvantaged children, compromised indigenous people & endangered sea turtle conservation efforts in Malaysia. The taupe gingko line of table runners features fabric made by a local designer from Ardmore, PA who designs for Andover Fabrics. The elegant gingko leaves on these chambray fabrics will add luminous elegance to any table setting. The Enchantment line of table runners features fabric, also from the same designer, in a more whimsical style.
The summer line of bags features primarily linen and cotton blends from Japan. The playful prints look toward a more relaxed lifestyle anticipated with the approach of the summer season.
Rachel Derstine is very proud of both the quality and design of the new collection and knows they will sell out very quickly. You may check the schedule to see when she will be at a show near you.
About Rachel Derstine Designs
Rachel Derstine is a fiber artist, well known for her vibrant award winning quilts sold throughout the country at high end juried art and craft shows. Her line also includes table runners and bags. Her work is also sold on her website:
https://rachelderstinedesigns.com/
Source: Rachel Derstine Designs
Related Media