Rachael Sage to Join Howard Jones for U.S. Tour
Press Release
•
updated: Jan 10, 2018
Shows Preview New Music, New Album - Spring 2018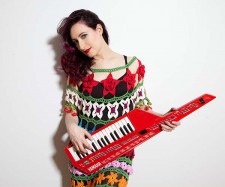 New York, NY, January 10, 2018 (Newswire.com) - Award-winning singer-songwriter and eclectic multi-instrumentalist Rachael Sage will be joining 80s pop pioneer Howard Jones for his nationwide U.S. tour kicking off January 24th in Seattle, WA. Sage has often named Jones as a seminal influence on her music and previously supported him during the UK leg of his 2017 world tour. Along the tour, Sage will be previewing material from her new album Myopia, due May 2018.
From running her own record label, MPress Records, to releasing twelve full-length albums and numerous EPs of original material, Rachael Sage is one of the busiest, most prolific artists in the independent music scene. Averaging well over 100+ dates around the globe each year, Sage has shared stages with such diverse musicians as Ani DiFranco, Lucius, Beth Hart, Sarah McLachlan, and Great Big World.
"...wonderful songwriting, arrangements and lovely vocals"

Howard Jones, Artist
In 2017, Sage was invited to open for Howard Jones during the UK portion of his international tour, which delightfully resulted in a creative kinship between the two. Jones expressed that Sage possesses "wonderful songwriting, arrangements and lovely vocals" and again called upon her to join his upcoming 2018 performances in America. The colorful artists will hit most major markets including stops in Seattle, San Francisco, Los Angeles, Atlanta, Boston, and two nights in New York City. Fans will also be treated to special selections from Sage's forthcoming full-length album, Myopia, set to release this Spring. Violinist Kelly Halloran (Tom Morello) will be accompanying Sage for all of her performances.
Myopia is a bold departure for Sage with a much stronger emphasis on her guitar playing over her signature piano palette. It's also a new kind of album for Sage personally, as she sings about a "screen of judgement / in my face all the time" being lifted. An edgy declaration of self-assurance and "vision" (Sage is legally blind without her glasses), Myopia focuses her passionately candid viewpoint into songs that range from the sociopolitical to the deeply romantic. As an affectionate nod to both her tour mate and one of her musical inspirations, she included her own unique interpretation of Howard Jones' #1 hit song "No One Is To Blame". Produced by Sage and her longtime engineer, 2-time Grammy® Nominee John Shyloski, Myopia also features inventive contributions by guitarist James Mastro and her longtime band The Sequins. Sage further explains: "This is a warm-weather record. These are songs about getting out there, thawing things out, and unearthing the truth. Sometimes you can't do that in the dead of winter. But when the sun is shining, even the murkiest future appears hopeful."
Full tour routing can be found below and via Sage's website. All press considerations are appreciated. If you wish to attend a show, request music or photos, and/or have any further inquiries, please contact press@mpressrecords.com
FOR MORE INFORMATION & PRESS INQUIRIES PLEASE CONTACT
Tiina Teal | 212-481-7243 | press@mpressrecords.com
RACHAEL ON TOUR W/ HOWARD JONES
1.24.18 / Illsley Ball Nordstrom Recital Hall / Seattle, WA
1.25.18 / Aladdin Theater / Portland, OR
1.26.18 / Admiral Theater / Bremerton, WA
1.29.18 / The Chapel / San Francisco, CA
1.30.18 / Harlow's / Sacramento, CA
2.1.18 / Romano's Concert Lounge / Riverside, CA
2.3.18 / El Rey Theater / Los Angeles, CA
2.4.18 / Whittier College / Whittier, CA
2.5.18 / Belly Up Tavern / Solana Beach, CA
2.13.18 / Soiled Dove Underground / Denver, CO
2.14.18 / Soiled Dove Underground / Denver, CO
2.15.18 / Tobin Center For Performing Arts / San Antonio, TX
2.18.18 / Dosey Doe, The Big Barn / The Woodlands, TX
2.20.18 / City Winery Nashville / Nashville, TN
2.21.18 / City Winery Atlanta / Atlanta, GA
2.23.18 / Infinity Music Hall / Hartford, CT
2.24.18 / YMCA Boulton Center For Performing Arts / Bay Shore, NY
2.25.18 / Daryl's House / Pawling, NY
2.26.18 / Sellersville Theater 1894 / Sellersville, PA
2.28.18 / City Winery / Boston, MA
3.1.18 / Shalin Liu Performance Center / Rockport, MA
3.2.18 / City Winery NYC / New York, NY
3.3.18 / City Winery NYC / New York, NY
3.4.18 / Hangar Theater / Ithaca, NY
3.7.18 / Music Box Supper Club / Cleveland, OH
3.8.18 / City Winery Chicago / Chicago, IL
3.9.18 / The Tarkington / Carmel, IN
3.10.18 / Live! At The Ludlow Garage / Cincinnati, OH
3.11.18 / St. Andrew's Hall / Detroit, MI
ABOUT RACHAEL SAGE: Since founding her own label MPress Records two decades ago, NYC-based alt-pop artist Rachael Sage has steadily released a slew of vibrant, dynamic albums with poetic lyrics spanning subjects as wide as her inspirations. She has toured with an eclectic list of artists including Ani DiFranco, Beth Hart, Sarah McLachlan, Judy Collins and Howard Jones. Sage also continues to significantly grow her visibility via her many song placements, having recently landed her 22nd song on top reality show Dance Moms, translating into over 10 million YouTube hits. Her upcoming album Myopia (due Spring 2018) is a bold departure for Sage, with a much stronger emphasis on her guitar playing over her signature piano palette. Produced by Sage and her longtime engineer, 2-time Grammy® Nominee John Shyloski, the album features drummer Doug Yowell (Joe Jackson, Duncan Sheik), keyboardist Rob Curto (Lila Downes), trumpeter Russ Johnson (Elvis Costello, Deborah Harry) and bassist Mike Visceglia (Suzanne Vega). Sage will headline a series of national shows in support of Myopia following an opening slot for Howard Jones' U.S. tour and continuing with a full schedule of performances throughout the year.
CONNECT WITH RACHAEL
http://rachaelsage.com/
#RachaelSage
CONNECT WITH MPRESS RECORDS
http://mpressrecords.com
#MPressRecords
Source: MPress Records
Related Media
Additional Links