Rachael Sage 'Revelation Ground' Summer Tour: Spain Debut & UK Headline Shows
Press Release
•
Jun 7, 2022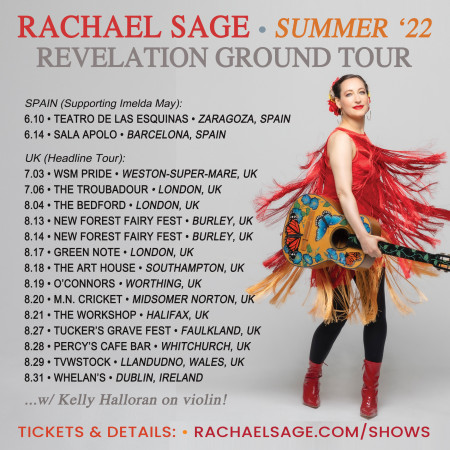 NEW YORK, June 7, 2022 (Newswire.com) - Just back from a six-week tour of the UK & Ireland supporting Irish Folk/Rockabilly singer Imelda May, MPress Records artist Rachael Sage will be heading to Spain to rejoin Imelda in key cities on the Iberian Peninsula. The sold-out tour of the British Isles and Ireland garnered an immense amount of accolades in the press, with the Irish Post writing she has "a wonderful way with words...very creative and emotional." Recent coverage includes articles in IMAAI, Lock Magazine, and PopMatters.
For Sage, who has toured many other European countries but never Spain, the opportunity to bring her original folk-pop to cities such as Zaragoza and Barcelona for the first time will be a dream come true. Says the singer: "I've toured in Germany with Eric Burdon & The Animals, shared the stage with Judy Collins in the UK, played in jazz clubs in France, and toured throughout Italy, The Netherlands and Czech Republic...but I've never had the chance to perform in Spain. Everyone I know who's ever been tells me it's their absolute favorite place and that it 'has everything': the culture, the weather, the natural beauty and a deep appreciation of music and dance. I can't wait to take it all in, and am so grateful to my brilliantly talented friend Imelda May for this unique opportunity!"
The six-time Independent Music Award winner will celebrate the release of her new "Revelation Ground" maxi-single and video throughout the summer, bringing her solo headline tour to the UK, performing multiple shows in London, along with several Pride and Folk festivals. Along the tour, Sage will perform songs from her recent Billboard-charting album Character, along with select pieces across her repertoire of 14 albums and her new collaborative side-project, Poetica. She will be joined by Kelly Halloran on violin (Michael Franti, Tom Morello). Full details are at rachaelsage.com/shows.
Watch the video for "Revelation Ground"
"Revelation Ground" marks a turning point in Sage's songwriting and production, merging her lifelong reverence for '60s-era folk - a la Leonard Cohen, Pete Seeger and Simon & Garfunkel - with a weathered, hard-won perspective on the sacredness of time itself. Amidst the landscape of the pandemic, racial protest, the loss of far too many loved ones and her own cancer experience, Sage distills bright hope and beauty from perhaps her most universal lyrics yet. With a hum-along melody that sounds like it has existed forever, her voice achieves an intimate poignancy underscored by Grammy®-nominated cellist Dave Eggar's rhapsodic playing. Stream the song HERE.
About Rachael Sage
Singer-songwriter, multi-instrumentalist and poet Rachael Sage has released over 20 albums of empowered alt-folk-pop on her own label MPress Records. Described by Pop Magazine as "an icon of the indie music scene...and an outspoken advocate for social justice", Sage has toured with an eclectic list of artists including Beth Hart, Howard Jones, Ani DiFranco, and Grammy® winners Marc Cohn, Shawn Colvin and Judy Collins.
Source: MPress Records